'Silicon Valley' Stars Dinesh and Gilfoyle Open Google Event
Dinesh and Gilfoyle have a beautiful love-hate relationship.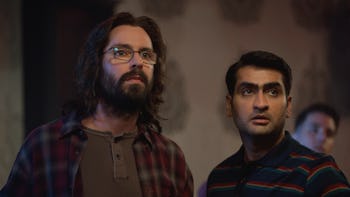 HBO
On Tuesday, Google held its Pixel event to announce some exciting new products, including a smartphone and mid-range virtual reality headset. Google enlisted fictional Silicon Valley superstars Dinesh Chugtai and Bertram Gilfoyle to drum up excitement for the event. The keynote's opening segment featured the duo doing what they do best: Fighting about their own relevance and popularity.
It's another instance of the show influencing and reacting to the real Silicon Valley. Google itself announced on Monday a nascent middle-out, machine-learning compression system, much like Silicon Valley protagonist Richard Hendrick's own. The show can lay the groundwork for real-world developments, and is thereby useful for real-world tech companies. If nerds are predisposed to desire advanced compression systems, they'll react more favorably to such innovations.
The show is also useful as a hype tool. People who might not have otherwise cared about the Google event might tune in. And, in turn, people who might not have otherwise cared about the show might tune in. Dinesh and Gilfoyle, with their beautiful love-hate relationship, are one of the best couples on television. Unfortunately, antagonist Erlich Bachman must've been busy.
But Dinesh and Gilfoyle may not have been the two best choices for Google. Apple products dot the scene's landscape, from a Macbook on Dinesh's desk to the Mac OS on Gilfoyle's desktop to what could be an iPhone in Gilfoyle's hand. (If it's not an iPhone, and it's the Pixel, then it isn't special enough for Dinesh to realize that it's what the ensuing keynote will announce.) Gilfoyle leaves the Google Pixel and Daydream in their boxes, then locks them away in a drawer. This may not bode well for a company hoping to take down Apple. But at least there's an afterparty.