"Griffin" Is a Featherweight, Destructive General Dynamics Tank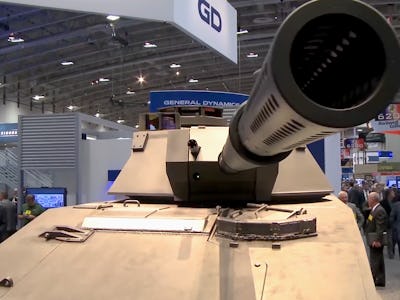 Breaking Defense
General Dynamics, an aerospace and defense company, just showed off its new, futuristic tank — the Griffin — to the United States Army. It's a sleek, mean machine, half the weight of an average tank. Despite its compactness, it packs a few big-time punches: It's got a 120mm cannon, an M1 Abrams turret, and lightweight but durable treads.
The Griffin is sort of a concept tank. The military didn't ask General Dynamics to build it, but it's long encouraged private defense companies to pursue innovation on their own. If the military likes the concept, it can avoid some of the standard red tape and fast-track the invention. The annual Association of the U.S. Army convention is in part designed to spur such cooperation.
In this case, General Dynamics recognized that there was a need for easily transportable tanks. Needless to say, a tank on a battlefield is a game changer. But in modern warfare, it can be near-impossible to get a 60-ton tank into the combat zone in a timely manner. Hence the desire for an effective combat vehicle that the army can airdrop into the field.
With its "experimental, XM360 cannon that was developed for Future Combat Systems," and its M1 Abrams turret, the Griffin would indeed be an effective combat vehicle. At 28 tons, it's almost light enough to be a practical, deployable tank. The Army will tell General Dynamics how to improve the Griffin's design, which tweaks could take about a year. After that, the military will need to clear the red tape, and only then could the Griffin actually make its way into war zones.