Chevy's Hydrogen-Fueled Army Truck Looks Straight Out of 'Halo'
Stealthy, rugged, and powerful.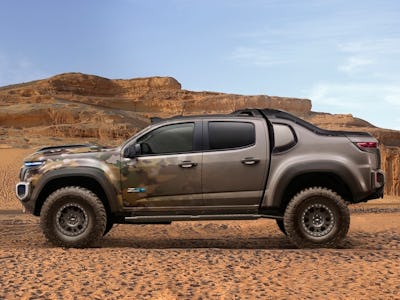 GM
General Motors revealed a hydrogen fuel cell-powered pickup truck on Monday, which it manufactured for the United States Army. The truck looks rugged — something like you'd see in Halo — which is on-brand for the Army. Its fuel-cell drivetrain is great news for the environment, but it's also practical.
The GM-TARDEC (the Army's Tank Automotive Research, Development and Engineering Center) partnership began a year ago, but we're only now being treated to the grand reveal. The truck was originally called the "Warfighter," but now, The Detroit News reports, it's being touted as the Colorado ZH2.
The hydrogen fuel cell gives the truck instant torque, much like the Tesla P100D. (It's nowhere near as quick out the gates as the Tesla Model S, which boasts around 400 horsepower, but it's good enough for government work.) In rough terrain and off-road situations, this torque will allow the ZH2 to soldier on. It's also quiet, and harder to pick up on thermal scanners, both of which are obviously useful in combat situations where stealthiness is paramount.
But, on top of all that, it's a green vehicle. Its only fuel is hydrogen, which is abundant — though the Army still needs to choose how it'll maintain a supply and its only emission is water, which, in the desert, could be of use. Soldiers can remove the fuel cell and use it to power other machinery, too.
It's not quite ready for the battlefield, though. The Army will test the ZH2 until early next year. "We expect to learn from the Army the limits of what a fuel cell propulsion system can do when really put to the test," Charlie Freese, GM's executive director for global fuel cell activities, said in a statement. If things go well, soldiers will enjoy a sweet new ride, and hydrogen fuel cells could resurface as an electric vehicle competitor.