Decoding the Knicks Basketball Talk in 'Luke Cage'
Patrick Ewing was basically a superhero.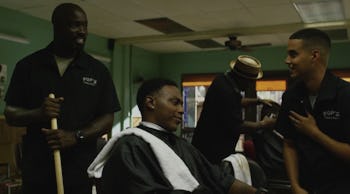 Netflix
As fans sat down to binge-watch Marvel's new series on Netflix, Luke Cage, they were greeted with a foreign language. After eight years of increasingly geeky dialogue filled with comic book references and fake science, all of a sudden, the characters were talking about professional sports. It was a jarring beginning for many geeks, who have not yet had to make any trips to ESPN.com for MCU easter eggs.
Sure, many comics fans love sports. But for those that aren't quite up-to-date on their Knicks and NBA history, here's a little primer to better understand what the hell was going on at Pop's Barbershop in the first episode of Luke Cage.
Don't worry, Pops, they got Porzingis
The first lines spoken in the entire series? Pop's frustrated lament about the state of the New York Knicks, a very justified rant given the team's disastrous 2014-15 season, and more broadly, decade and a half of ineptitude.
"They lose 65 games only to end up with the fourth pick in the draft," he says, echoing the incredulity a lot of Knicks fans felt when they seemingly came up short in the lottery.
"That Russian kid they drafted, he better be good," Pops adds, referring to Kristaps Porziņģis, the lanky 7'3" power forward they drafted with that fourth pick in the draft. Porziņģis — who is Latvian, as Bobby Fish tells Pop — was the big mystery in that draft class. He was huge, obviously, but at 19-years-old, also incredibly skinny and after playing in Spain, seemingly vulnerable to the more muscular, elbow-tossing big men of the NBA.
But the Knicks — and the team president that Pops wants fired, Phil Jackson — knew that Porziņģis had a sweet shot and legit work ethic, so they rolled the dice and took him with that fourth pick. And unlike many Knicks draft picks, he delivered more than even expected in his rookie year.
Porziņģis was a revelation for the Knicks, averaging 14.3 points, 7.3 rebounds and 1.9 blocks per game in a season that was otherwise filled with dysfunction and injured teammates. He drained threes, drove to the hoop, blocked shots, grabbed boards, and even put on some muscle, giving the downtrodden crowd at Madison Square Garden something to finally cheer about. Sure, the Knicks still ended up with a losing record, but other than that brief bout of Linsanity and an unexpected run to the Finals in 1999, the Garden hadn't been that bumpin' since Patrick Ewing's heyday.
Speaking of…
Pops absolutely reveres Pat Riley, the coach and GM who ran the Knicks in the early '90s (he's above, with Hall of Fame Knicks center Patrick Ewing). His devotion clearly annoys his customers and friends, with good reason: Riley, who coached the Showtime Lakers in the '80s, was the Knicks' coach during the team's last glory days, which culminated in a trip to the Finals in 1993-94. But the suave coach with the slicked back hair jumped ship 1995 via fax, no less to coach the Miami Heat, setting up one of the most heated rivalries of the '90s.
Check out this brawl from the late '90s, when Larry Johnson of the Knicks went after Alonzo Mourning of the Heat (and notice Knicks coach Jeff Van Gundy holding on to Mourning's leg).
Luke doesn't speak much at the beginning of the episode, but he steps up to defend Pop's devotion to Riley's Knicks.
"The Knicks played like men when Riley was head coach," he says, nodding to the hard-charging, elbow-throwing team of that era. "[Charles] Oakley and Ewing went hard in the paint. Plus, Anthony Mason, and John Starks? Drive the lane, you might go home in a body bag."
It was a different game back then, the unbreakable man says. It was a different era, back then, before "all that Instagramming, 'let's all max contract on the same team bullcrap' passing as competition nowadays." That line was a swipe at LeBron James, Dwayne Wade, and Chris Bosh signing together in Miami … for, ironically, Pat Riley.
That's okay with Luke, though — because King James is the truth.