Bethesda Just Uploaded Two Hours of Fist-Pumping 'DOOM' Music
Mornings are for coffee, contemplation, and 'DOOM.'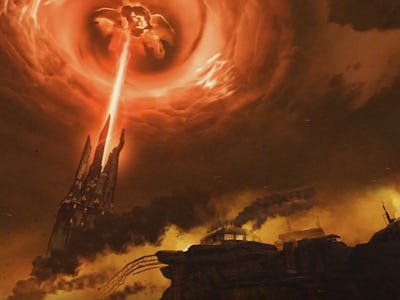 The DOOM video game franchise is known for its music, but not in the way, say, Journey or Final Fantasy is known for their music. It's more like how heavy metal bands are known for their music. In its infinite wisdom, Bethesda Softworks just released the entire DOOM (that's the 2016 release's styling, mind) soundtrack on YouTube. Get ready for two hours and change of rocking, my friends.
The release includes the full soundtrack to the gory, evil-infested game from Mick Gordon and developer id Software, and while you could, in theory, just straight up buy the thing from iTunes or even listen via Spotify, there's something to be said for just letting the YouTube video play through all 31 tracks. Added bonus? There's some Winamp-style visualization going on with the hellish spiral of energy on the left.
If you're looking to just pick and choose, "Rust, Dust & Guts" is a personal favorite. "Ties That Bind" comes a close second. Honestly? The whole thing is a treat, and that's coming from someone that regularly listens to both the original and the sequel's soundtracks.
The full tracklist, with relevant starting times, is included below:
I. DOGMA 00:01
Rip & Tear 00:45
At DOOM's Gate 5:02
Rust, Dust & Guts 06:13
II. DEMIGOD 13:56
Hellwalker 14:45
Authorization: Olivia Pierce 19:51
Flesh & Metal 22:15
Impure Spectrum 29:16
Ties That Bind 31:00
BFG Division 33:08
Residual 41:34
Argent Energy 42:58
Harbinger 46:05
Biowaves 53:15
Olivia's DOOM (Chad Mossholder Remix) 55:31
Transistor Fist 1:00:11
Dr. Samuel Hayden 1:06:20
Cyberdemon 1:10:32
Incantation 1:16:49
III. DAKHMA 1:20:26
Damnation 1:22:42
The Stench 1:29:24
UAC Report File; SHTO36U3 1:32:17
Death & Exhale 1:35:20
SkullHacker 1:39:11
Lazarus Waves 1:46:26
VEGA Core 1:50:06
6-idkill.vega.cih 1:58:08
Mastermind 1:59:47
IV. DOOM 2:06:26