The Most Likely Way to Die on 'Game of Thrones' is Surprising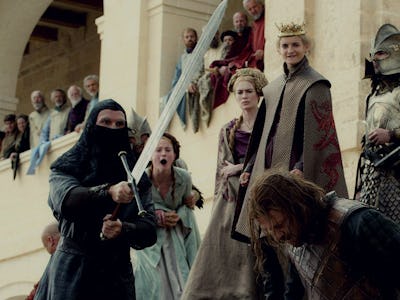 gameofthrones.wikia
While death at the hands of Ramsay Bolton, door-holding, and beheading have all been prominent methods of murder and death on Game of Thrones, the most statistically likely way for someone to die in Westeros is, yep, stabbing.
Dying on TV is a new online interactive that both quantifies total character deaths on the most popular (and violent) television shows out there and tells you your chances of dying in-universe. Unsurprisingly, Game of Thrones is at the top of the list for killing off the most main characters — 30 of them have bit the dust on GoT, eight of those from stab wounds.
We're not sure what qualifies as a "main character," but following up GoT in the number two spot is American Horror Story with a total 26 main character deaths, six of which occurred via gunshot. Keep in mind, though, that the entirety of the sixth season of AHS hasn't aired yet, while the sixth season of GoT ended in June. If American Horror Story decides to kill off five main characters during Roanoke, it could surpass Game of Thrones as the most deadly show on television.
The team behind the interactive — some folks at LatestCasinoBonuses.com — was inspired to make it when they started wondering how it was they would die on Game of Thrones. So they pulled a sample of television shows from some of IMDB's top-rated lists and — bam — came up with their oh-so-violent list.
From Lost to Buffy the Vampire Slayer to The Walking Dead, you could be shot, stabbed, strangled, beaten, or just plain mauled by zombies. The possibilities are kind of endless. The interactive is divided up by age range and gender (male or female), and tells you which characters' fates you're most likely to share. A 21-30 year old female is in danger of being shot on Orphan Black, stuck in hell like Misty Day in American Horror Story, or hit by a train like Zoe in House of Cards.
"When your favorite character dies in a long-running TV show, you feel like someone close to you is gone," Kip Wright at LatestCasinoBonuses.com told Inverse. "Going through the interactive calculator, I'm reminded of so many critical deaths in some of my favorite shows. I'm also reminded of how gruesome some of them were."
Incredibly gruesome. Oh and by the way, spoiler alert.