'Batman v Superman' Art Reveals Aquaman's High Tech Trident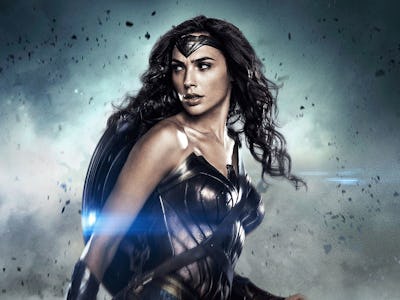 Warner Bros. Pictures, DC Entertainment
Thanks to artist Rob McKinnon, fans can now see some of the original concept artwork from Zack Snyder's Batman v Superman: Dawn of Justice, including alternate versions of the League's weapons.
We reached out to McKinnon, who is, of course, bound by some strict Non-Disclosure Agreements. However, he was able to tell us he collaborated with Batman v Superman Production Designer Patrick Tatopoulos on the designs, while Snyder had the final say in the matters.
McKinnon, who also worked on films like Captain America: The Winter Soldier, put up his BvS concept work on his personal website recently. Aquaman's trident in particular went through an interesting series of prototypes, and many of those have a decidedly futuristic look.
Compare those to the various sword concepts for Wonder Woman, which by contrast look more aged and battle-worn. Snyder apparently wanted to also include a Greek inscription which translates a quote from Joseph Campbell's Goddess: Mystery of the Feminine Divine:
"Life is kill all the time and so the goddess kills herself in the sacrifice of her own animal."
McKinnon and the design team needed to create cinematic weapons that felt new and never-before-seen while keeping true to the source material. McKinnon said he was able to bring in a little bit of his experience working on 300: Rise of an Empire for Wonder Woman's Greek- and Spartan-inspired designs.
Wonder Woman's antique weapon is a reference to her long life and ancient civilization, so it's interesting to see Aquaman's weapons favor a more technological look. Perhaps Aquaman is more interested in keeping up with the latest, futurist design trends from the surface world, while Wonder Woman prefers a more rustic aesthetic?
Though we don't know much about Snyder's Aquaman yet, the Comic-Con footage released this summer suggests he's super into liquor and supporting the inhabitants of a rural fishing town. That characterization doesn't necessarily suggest he'd own a tech-heavy trident, so maybe Bruce Wayne made these for him?
All will be confirmed on November 17, 2017 when Justice League premieres.