Who's in the New 'Legends of Tomorrow' Season 2 Poster?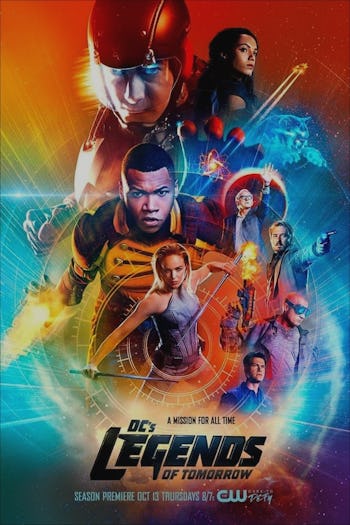 CW, Warner Bros. Television
One of the CW's many superhero shows, Legends of Tomorrow, is set to return for a second season in October. A new poster for the upcoming season reveals some of the new team members that will be joining the time-traveling superhero group, including new heroes like Vixen and Citizen Steel.
CW's Legends of Tomorrow is another DC superhero show part of the network's "Arrowverse", a shared universe occupied by shows like Arrow, The Flash, and most recently, Supergirl. Legends tells the story of heroes recruited by the time traveler Rip Hunter, who enlists a group of modern day heroes to hunt down the immortal villain Vandal Savage.
The show stars familiar faces from the "Arrowverse" like Atom and White Canary who both appeared on Arrow. However, Legends also introduces other heroes that started on The Flash like Firestorm, Heat Wave, and Captain Cold. However, the show's first season finale revealed some major changes to the team line-up, losing heroes like Hawkgirl and Captain Cold, the later potentially joining other "Arrowverse" shows.
With gaps in the team roster, Season 2 of Legends recruited some new faces including a historian turned superhero named Citizen Steel and Vixen who can control the powers of the animal kingdom. Coincidentally, Vixen is already the hero in an animated CW online show of the same name.
However, the actress who voices the character could not join Legends due to scheduling conflicts. The Vixen who will appear in Season 2 is actually the grandmother of her animated counterpart who joins the team thanks to the power of time travel.
Season 2 of Legends of Tomorrow premieres October 13.