Naked "Hummanequins" Show the Future of A.R. at London Fashion Week
Nudity for the sake of progress.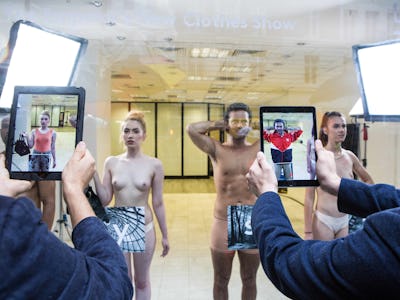 Lyst
Londoners got their first taste of the Fashion Week of the future today thanks to tech-savvy online retailer Lyst. The company staged an A.R. exhibit where passersby could dress naked models through a shop window with virtual representations of clothing using tablets and smartphones.
Lyst used four "humannequins" and four sets of clothing, which they selected from the algorithm on their platform that allows them to identify the hottest trending clothes in London right now. Using 360 photography, they shot clothes on the mannequins from every angle.
"We thought it would be fascinating to look at what lies in store — quite literally — for us all in the coming years." said Christian Woolfenden, Lyst CMO.
More than just a publicity stunt, Lyst's partnership with [M](http://www.m-is.com/, a digital firm based in London, represents an important trend in the future of augmented reality. While most users have come to associate the technology with flat, 360 videos sewn together or amped-up special effects in video games, the A.R. designed for Lyst shows the sophisticated potential of the future in the form of texture rich fabrics and color.
Over the past eight years, M has been focusing on advancing A.R. to create truly volumetric experiences, Callum Reid of M tells Inverse.
"Online, you purchase based on photographs you can look at different angles," Reid tells Inverse "In real life, you can actually get a sense of shape and form. How can we reduce that gap between the retail experience and online?"
Most A.R. utilizes special effects technology, but the Lyst project required a "radically different" approach in order to capture natural light. While special effects are designed to manipulate, A.R. recreating actual real-world concepts requires a much more complex process.
"The fundamental approach with 3D scanning is to scan it and then relight with a retracing algorithm, which is very finite compared to reality," Reid tells Inverse.
But the end result is a product that falls short of realistic. M's system preserves lighting at the point of capture in order to create the most dimensional, photo-real media possible.
This system has an entirely different workflow from traditional A.R. design, but M was able to pull the project together in six weeks.
"My passion is that the world exists in shape and form," Reid says. "The world doesn't exist as a flat image which is what we've been experiencing, either flat or manipulated images ."
Reid called the Lyst project an example of how photoreal A.R. is "very valuable for emerging media."
Reid says that A.R. has suffered from a "low balling" effect where up until now the focus has been on low-cost production rather than quality.
"I use the analogy that TV would have never been so ubiquitous if it had just played cartoons, he says. In order to make A.R. a consumer experience that will catch on, it will have to be able to more realistic representations of things like sports and news.
"The reaction and the feedback and response that we've had so far from shoppers and the media has been hugely positive," Rory Scott, vice president of communications at Lyst, tells Inverse.
"It really blurs the line between a kind of everyday experience and an online experience," says Scott.
Lyst isn't the only company hoping on the mixed-reality bandwagon at London Fashion Week. Designer Martine Jarlgaard will host a fashion show viewable only through Microsoft Hololens headsets.
While Scott wasn't able to say what plans Lyst has for the use of A.R. in the future, now that they have the technology it's possible they'll take the display on the road to other markets.
"Thanks to virtual reality augmented reality has gotten a boost so people are expecting more from virtual reality," says Reid. "It's where the future will go because it's so fundamentally human-centric."