These Weird Fan Festivals Are Expressions of Beautiful, Strange Love
Behold: festivals devoted to sandwich toppings, Winnie the Pooh, and Ernest Hemingway's alcoholism.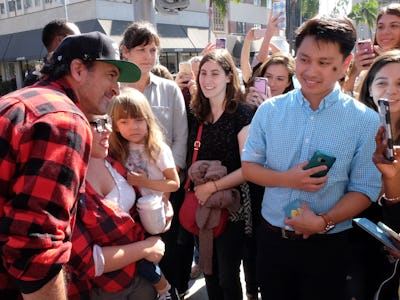 Sarah Morris / Staff / Getty Images
The Gilmore Girls festival has been sold out since shortly after its announcement in late August, filling a demand that you may not have thought existed. Sure, the enthusiasm is at least in part due to the upcoming Netflix reboot of the series, but it's also a testament to how, even in the internet age, there is major appeal to finding people who share your passions and meeting them in real life.
There are plenty of well-known fan conventions, most of which gather fans of genres and interests such as sci-fi, fantasy, sports, and comic books. Thanks in part to the internet, there are now plenty of other festivals for people with seemingly more niche interests. Here's a look at some of the more unexpected conventions still running today.
Winnie the Pooh Festival in White River, Ontario
The Gilmore Girls festival is in Connecticut, where the fictional setting of Stars Hollow was located. It's not unusual for otherwise quiet areas with roots in famous works to try and capitalize on fan interest with festivals. Few do it with more enthusiasm than White River, Ontario. As history would have it, the town is where author A. A. Milne imagined the Hundred Acre Wood where Winnie the Pooh could be found. Families from all over go there to celebrate one of the most sickly sweet series in history. There has never been a more apt marriage of overt cuteness than Milne and Disney, and the characters are on wide display through flower gardens, hoedowns, and larger-than-life statues.
That's all well and good, but I'm still with Dorothy Parker, reviewing 1928's The House on Pooh Corner under her New Yorker pen name Constant Reader: "And it is that word 'hummy,' my darlings, that marks the first place in The House at Pooh Corner at which Tonstant Weader fwowed up."
Similar odes to children's literary favorites can be found at the Wizard of Oz Fest in Tinley Park, Illinois and the Mary Poppins Festival in Australia.
Shrekfest in Madison, WI
As an expert in the field of Shrek media myself, I am pleased to find that there are a staggering number of spinoff media dedicated to the Scottish ogre. As you might expect, they vary in levels of seriousness. Sure, there are local productions of the egregious Shrek! The Musical in every small town across the world, but comedy collective 3GI Industries' annual Shrekfest leans deeply into the subculture based around the 2001 Dreamworks juggernaut that has built a huge online following since the late 2000s.
For a peek into their point of view, look no further than the now-infamous Shrek is piss video — it's all about taking a highly successful franchise rooted in playing on fairytales, and paying it absurd homage. In short, it's fun, and it's not for kids. The fest features a Rocky Horror-style interactive screening, a massive display of fan art, and Shrek cosplays with all the irony you can possibly stand.
David Lynch's Festival of Disruption in Las Vegas, NV
For every festival run by the fans, there's a smart businessman who fills the supply before the demand even hits. Filmmaker David Lynch has programmed his own weekend-long Vegas celebration featuring music from Robert Plant and Angelo Badalamenti (the original Twin Peaks composer), fan exhibits, and even virtual reality installations that invite fans into his complicated creations.
Thanks to Lynch's celebrity and artistic connections, attendees included Frank Gehry, Mel Brooks, original Lynch-made stars Kyle MacLachlan and Laura Dern, St. Vincent, Debbie Harry, Questlove, and more.
Hemingway Days in Key West, FL
Hemingway Days in Key West celebrates the famed author in the Cuba-adjacent area he made his home in his final years. The week-long event celebrates the author's lifestyle just as much as his work, mixing more conventional exhibits with marlin sporting events and a running of the bulls.
Good booze isn't the only reason to hit the fest this year, though (but don't kid yourself by pretending it's not a strong incentive) — the Key West event is the home of one of the more intense lookalike contests in the country, where hundreds of contenders flock to pass as a dead ringer for "Papa Hemingway." Even better, when the winner is declared, he receives a massive brass medal reading "Sloppy Joe's In Papa We Trust," and while I'm not exactly sure what that means, I'd like it on my grave.
Fluff Fest in Somerville, MA
An honorary mention — it's not entertainment-related but still one of our strange favorites. You know when you attend a hyper-specific event your entire life and then realize that it was a little weird the whole time? No, I'm not talking about my parents' annual "Separation Anniversary" party, I'm talking about Fluff Festival in Somerville, MA. It's an autumn celebration of perhaps the most unhealthy sandwich topping ever to grace white bread.
Fluff, if you're not initiated, is a thick, sugary marshmallow topping usually paired with peanut butter (though it also is killer with jelly, speaking from experience). The festival in Boston features everything from new Fluff recipes to, of course, a number of Fluff jar cosplays that run from sexy to chillingly real.