'The Strain' Just Gave Itself Breathing Room for Season 3
The Master is gone. What's next for New York?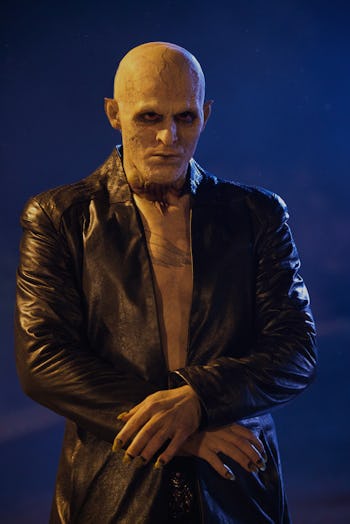 FX Networks
Only three weeks have passed since the Strigoi outbreak began in The Strain, but for viewers, it's been three seasons of the stale war against the Master. But in this week's episode "First Born," the unthinkable, but necessary, happened: Quinlan killed the Master, exacting his 2,000-year revenge. It's not a permanent shake up to the show's status quo, but The Strain might have solved one of its biggest problems.
The Strain has been a stand out program in a TV environment crowded with the apocalypse: Two Walking Dead shows, Z-Nation, The 100, 12 Monkeys, Containment, and more. It's been fascinating to witness Guillermo del Toro and Chuck Hogan's FX series try to outdo and out-gross the competition. But as the show marched into its third year, none of the characters have dealt any serious blows to the Master. The Big Bad has been maddeningly elusive, and the show's indulgent flashbacks and ensemble cast with their B- and C-plots preoccupied the plot. That is, until this week, when Quinlan took his sword to the Master's neck.
Quinlan's sweet kill isn't permanent, and it came at the cost of Quinlan himself. A "queen strain," likely the Master himself, squiggled away from Setrakian to find a new host (who wants to bet it'll be Eldritch Palmer?). Nevertheless, it'll be awhile until we see the Master again, while Quinlan may be dead or gravely injured.
But for The Strain itself, the Master's temporary absence couldn't have come at a better time. For the next few weeks, the fight will be taken to Eichorst, a thorn on Eph et al's side since the apocalypse started at JFK International. There's also going to be room for other stories to breathe, in particular Gus and Angel's "incarceration" as a sweep-up crew where their talents — remember that Gus was trained by Vaun, while Angel is an ex-luchador — could make them valuable assets to the authorities, meaning they might finally work with Fett, which has been a long time coming.
The Strain has always been exciting to watch, but sometimes for insincere reasons. At its worst The Strain has been a misshapen, oft-distracted piece of television, with far too many stories to juggle. Characters meant to be of significance have come and gone without care, while the allegiances by its antagonistic forces have been confusing and unclear. But with the Master gone, a crowded show like The Strain might finally be able to breathe.