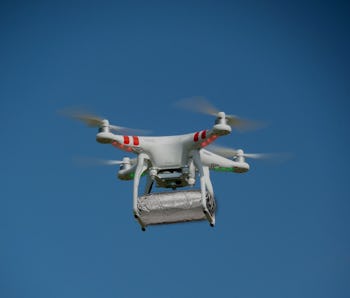 Innovation
Drones Will Deliver Chipotle Burritos to Virginia Tech Students
Peter Bright
Dreams of having a burrito fall from the sky during a prolonged study session just got real for students at Virginia Tech. Thanks to a partnership between Alphabet X and Chipotle, the school will begin testing a burrito drone delivery service later this month.
"I see package delivery as one of the biggest challenges to unmanned aircraft delivery," Mark Blanks, the director of the Virginia Tech Mid-Atlantic Partnership, tells Inverse.
The Pilot Wing deliveries will be delivered in a closed, FAA-approved site with a Chipotle truck on site. This comes after the White House announced in August they would give Pilot Wing special permission to test drone delivery in regulated zones. Unfortunately, this means the delivery service will only be tested by select student and staff volunteers, not available to Hokies at-large.
Virginia Tech was named one of six national drone test sites by the Federal Aviation Administration in 2012. While the project has experimented with medicine delivery in the past, this is the first time they will attempt to deliver spicy fresh food. Neither Pilot Wing nor Blanks could speak to why Virginia Tech was chosen for the testing. A spokesperson for Pilot Wing was unable to clarify why Chipotle was chosen for the project but stated that the company will not profit from the orders.
"Food delivery will help us solve an important set of hard problems quickly — and then it will be a lot easier in the future for us to work with less fragile goods or handle different kinds of time-sensitive items," Pilot Wing predicts via a statement sent to Inverse.
It's worth nothing that Yelp engineers already developed a burrito bomber in 2012, however, at the time FAA regulations prevented drone delivery of food.
Dave Vos, lead researcher at Pilot Wing, says that successful implementation of the technology "moving stuff around has a huge impact on the carbon footprint of humanity."
While the aircrafts will be unmanned, human controllers will still monitor deliveries.
Blanks tells Inverse that the new drone research is just a small part of Virginia Tech's investment in the "smart city of the future." The school announced a new $75 million dollar investment in "intelligent infrastructure" last week.
No word yet on when Virginia Tech will start partnering with Domino's on drone pizza delivery. Or ramen, for that matter:
"I jokingly speculated we might one day have quadcopters delivering ramen noodles around campus — apparently I wasn't off by much," said Virginia Tech President Tim Sands, in a statement.