"Crackas With Attitude" Arrested for Hacking U.S. Officials
Social engineering hacks targeted officials and their spouses.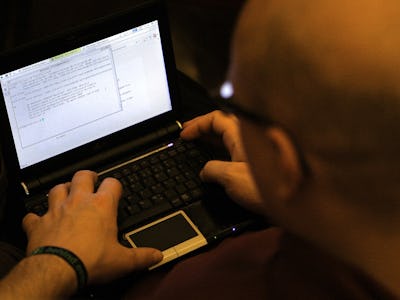 Getty Images / Adam Berry
The U.S. Department of Justice announced today that it has arrested Andrew "INCURSIO" Boggs and Justin "D3F4ULT" Liverman for allegedly using social engineering to steal information from U.S. government officials and systems.
Boggs and Liverman are said to be affiliated with a group called "Crackas with Attitude" that includes several members from the United Kingdom who call themselves "CRACKA," "DERP," and "CUBED."
In court documents, the Crackas with Attitude are accused of using social engineering techniques — which trick people into clicking on sketchy links or downloading malicious malware instead of hacking them with brute force — on senior government officials and their family members.
"A member of the Conspiracy would obtain information from each victim account and post that information to the Internet for the purpose of harassing the victim," the DOJ said in an affidavit. "In some cases, members of the Conspiracy would make telephone calls or online posts for the purpose of harassing the victim."
The group is said to have been active from October 2015 to February 2016. In that time it targeted five people; made a bomb threat in the Palm Beach County Sheriff's Office; published data about 80 officers from law enforcement agencies in Miami; and gained access to the DOJ's Case Information Management System.
According to the affidavit, members of Crackas with Attitude "utilized anonymizing software, Twitter, and other social media platforms, and instant messaging applications to communicate with one another, to obtain unlawful access to online accounts, publicize their exploits, and harass their victims."
Those are common tools used during social engineering hacks, which see hackers disguise themselves to gain access to someone's accounts. In several cases, the Crackas with Attitude went after their targets' spouses, which offered them access to information and gave them another outlet for harassment.
Future social engineering hacks could use artificial intelligence to be even more effective. These systems can trick people into clicking sketchy links much more effectively and conveniently than ever before.
Boggs and Liverman have been accused of violating several federal statutes, ranging from rules preventing people from impersonating officers to forbidding intentionally accessing a computer without authorization. You can read the full affidavit describing their alleged operations and the statutes they broke here: