Kate Beckinsale's Blood is "Key" in 'Underworld: Blood Wars'
The new 'Underworld: Blood Wars' trailer shows Selene kicking Lychen ass and suggests that her blood is the 'key.'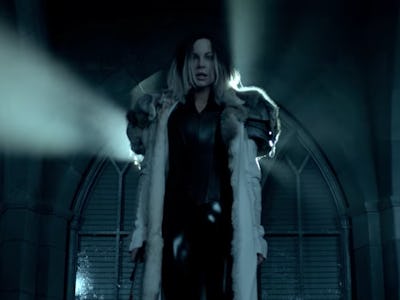 Sony Pictures
The first trailer for Underworld: Blood Wars is making the blood itself the most important part of the plot. That is, if the line, "Selene's blood is the key," is any indication.
In classic Underworld fashion, things get pretty ridiculously violent in the latest installment of the centuries-spanning vampire-vs-werewolf film series. Here, Kate Beckinsale's Selene is doing exactly what Selene does best: taking out Lycans (second breed werewolves!) while putting herself in the middle of a monster war — inadvertently or otherwise.
Selene's alliance with the vampires of Underworld continues to be an uneasy one. Because this time, the vampires appear to need her help in dealing with a new Lycan leader, Marius. It appears that Selene's special blood — she was turned into a vampire-hybrid in Underworld: Evolution — could be integral to the plot of the movie. Perhaps the other vampires want to use it to give them similar protections from UV radiation (which Selene is immune to), or the Lycans want to use it to pump up their warriors.
Underworld: Blood Wars is the fifth film in the Underworld series, which has somehow managed to subsist on similar plotlines in almost of its parts. But that's not why we keep coming back to these movies. It's the slow-motion, trench-coat action, and the promise that Kate Beckinsale's Selene will perform gravity-defying flip-kicks which result in the certain death of her wolf-like foes.
Underworld: Blood Wars releases January 6, 2017.