5 Great Movies That Saved A Cinematic Garbage Summer of a Summer
Even through one of the worst summer movie seasons in recent memory, there's still plenty to love.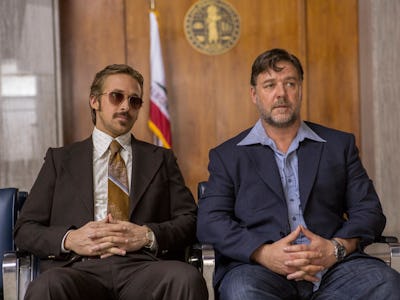 Facebook / TheNiceGuysMovie
The summer movie season — roughly defined as the release schedule from Memorial Day to Labor Day weekend — is supposed to feature weekend-after-weekend of studios' biggest and most expensive projects. The hope is that they will launch, or continue, big tentpole franchises that can make their rights holders billions of dollars.
But this summer's blockbuster releases have been tough to endure. Critically, based on [Rotten Tomatoes](www.rottentomatoes.com] scores, it's statistically one of the worst of all-time. Critical and/or financial bombs include, but are in no way limited to, Independence Day: Resurgence, The Legend of Tarzan, Warcraft, X-Men: Apocalypse, Alice Through the Looking Glass, and Suicide Squad.
It's tough to see a silver lining, especially when such a woeful lineup has caused some to declare that movies are dead. But you just have to look a little harder, because there were some very, very good movies, even during this atrocious summer movie season of 2016.
5. Swiss Army Man
Most definitely the most unique movie of the summer, it's sort of a miracle that it even got made. Sure, it had a low budget, but the fact that anyone gave the co-directing unit of Daniel Kwan and Daniel Scheinert the dough to make what is best known as the "Daniel Radcliffe farting corpse movie is absolutely amazing.
You will never see a movie quite like Swiss Army Man, which features Paul Dano as a depressed man who escapes from a desert island after he finding a sentient, flatulent corpse (played by Radcliffe). There's something for everyone: fart jokes that will make you laugh, and fart jokes that will make you cry.
4. The Nice Guys
Shane Black jumped up to the directing big leagues when he made Iron Man 3, which bucked the odd-couple-with-guns genre that he established with Lethal Weapon, (https://www.inverse.com/article/12576-dear-shane-black-please-keep-arnold-schwarzenegger-out-of-the-predator), and revived with Kiss Kiss Bang Bang. He went back to that formula with The Nice Guys, an action-comedy-thriller starring Russell Crowe and Ryan Gosling as two private eyes who investigate the possible suicide of porn stars in 1970s LA. It's a good, old-fashioned buddy adventure that feels like a throwback to days gone by, and not just because it's set in the '70s. Sadly, it didn't really catch on with audiences, but it's sure to outlast a lot of the dreck released in 2016s summer months.
3. Pete's Dragon
Another one that didn't take the box office by storm, Disney's Pete's Dragon remake from indie director David Lowery fell short of the huge billion dollar success of the studio's The Jungle Book. As is always the case, financial success — and lack thereof — doesn't necessarily indicate quality. This solid family tale blends actual human emotion in with all its CGI splendor, and even manages to capture the Spielbergian wonder of the fantastic unknown (even more so than Spielberg's 2016 dud, The BFG). Thrilling without being cheap, heartfelt without being saccharine, and completely devoid of any cynicism whatsoever, Pete's Dragon is the kind of movie that would have made bank 20 years ago. Hopefully it won't take that long for people to realize just how great it is.
2. Star Trek Beyond
When it was announced that director J.J. Abrams would take over directing duties for a new Star Wars movie, no sci-fi fan should have been surprised: He was a lifelong fan of the franchise, and his 2009 Star Trek reboot was essentially a Star Wars movie about the frenemy squabbles of the crew of the U.S.S. Enterprise. Even the 2013 follow-up tried to ape the darker, more complex vibes of The Empire Strikes Back. And so when Abrams departed and Justin Lin stepped in it, it created a big question mark. Lin, after all, was the guy who resurrected the Fast and Furious series and turned it into one of the most unlikely lucrative franchises ever, but the Star Trek jump seemed like a bit of a post-Abrams curveball.
Thankfully Beyond, which was co-written by series star and bona fide geek authority figure Simon Pegg, was a blast — smart, competent, and just plain fun. While the story about a former Starfleet commander who became a shape-shifting, semi-redeemable villain named Krall wasn't revolutionary, Lin still did what he did with the Fast movie and made the crew a family unit that would propel them into future sequels.
1. Finding Dory
Disney was the big winner of summer 2016, as Captain America: Civil War made a boatload of cash and satisfied comic books fans. Finding Dory, another sequel, was able to organically continue its characters stories, even a decade after the original hit theaters. Director Andrew Stanton had previously made the jump to live action films and suffered a bomb with John Carter, and returned to Pixar with maybe his tail a little bit between his legs. The story, about the titular amnesiac fish voiced by Ellen Degeneres seeking out the family she was separated from as a child, was magic. The greatest thing you can say about Finding Dory? That no one really wanted or needed a sequel to Finding Nemo but once they watched it, they were glad it was made.
Honorable Mentions
Hunt for the Wilderpeople