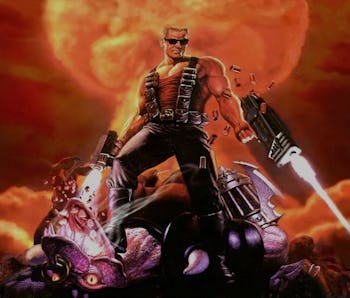 Gaming
'Duke Nukem 3D' Gets Revived for its 20th Anniversary
So maybe just forget 'Duke Nukem Forever'.
The '90s PC classic Duke Nukem 3D is getting a big, updated re-release for the Duke's 20th anniversary, and it's gonna rip 'em a new one, baby.
For the long-winded Duke Nukem 3D: 20th Anniversary Edition World Tour, Gearbox brought back the original development team to retool the 1996 PC game alongside a new episode, containing eight levels.
In addition to the development team, the game's original sound designer Lee Jackson has written new music for the game, which is being developed for PS4, Xbox One, and PC. Developer commentary will also be included, which should at least prove to be an interesting time capsule, and perhaps one Gearbox hopes will erase the stain of Duke Nukem Forever from memory.
This isn't the first resurrection of Duke Nukem 3D. The Megaton Edition, which added multiplayer, was released for PlayStation platforms in 2014. Unfortunately, it was removed from PSN earlier this year, after the distribution agreement with Devolver Digital ended, the rights being reverted back to Gearbox. While at this point it's unclear whether World Tour will bring back the content from this previous re-release, it seems likely.
While Duke Nukem 3D has a place in the annals of PC gaming the title character is a bit of a problem — sure, it's mostly satire, but Duke Nukem's social and political outlook is somewhere to the right of Donald Trump. Then again, considering the game's age and cultural impact, he might just get away with it.
Still, it's interesting to see older games get reinvigorated for new audiences – MachineGames recently did it with a new episode for the original Quake, for instance – and given the assumed limitations of what the devs can do with whatever may be in World Tour's new levels, whether they'll be able to keep the design fresh and interesting.
Whatever the case, Duke's revival is scheduled to release October 11.