Here's Everything New Streaming on Amazon in September 
'Doctor Who' has found a new home.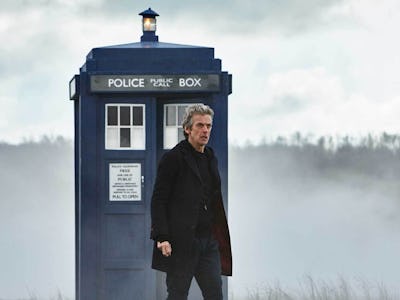 AMC
September is here, marking the end of the summer season – and the beginning of several new Amazon Original series. Between new seasons of Transparent and You're the Worst plus a plethora of new streamable movies, you'll be able to pull your best Brad-Pitt-in-Interview-with-a-Vampire impression and hide away from those last few rays of summer sun.
There's definitely a strong character-driven vibe this month. The Doctor and his TARDIS have found a home on Amazon with season 9 of BBC's Doctor Who, which disappeared from Netflix earlier this year. Meanwhile, Dr. Evil is back to steal Austin Powers's mojo, and the guys will be spending a Weekend at Bernie's. Meanwhile, as a true juxtaposition, Robin Williams is here to remind us including you, Matt Damon — to believe in ourselves (and make us cry) in Good Will Hunting and Black Phillip from the 2015 cult horror The Witch won't be far behind.
Available 9/1:
1984
2001 Maniacs
Any Given Sunday
Apollo 13
Austin Powers: The Spy Who Shagged Me
Autopsy
Borderland
Breakheart Pass
The Broken
Bronson
Buried
Butterfly Effect 3: Revelations
Caddyshack
Crazy Eights
Dark Ride
The Deaths of Ian Stone
The Devil Inside
Dying Breed
Eight Men Out
Fido
Food, Inc.
Four Feather
From Within
Full Metal Jacket
Fun Size
Futureworld
Good Will Hunting
Hair
Heaven's Gate
Imagine That
Interview with a Vampire
Jeff Who Lives at Home
Lake Dead
Man on Wire
The Mechanic
Mr. Majesty
Mulberry Street
Nightmare Man
Offspring
Out of Time*)
Pusher I
Pusher II: With Blood on My Hands
Pusher III: I'm the Angel of Death
Reincarnation
Roman Holiday
Saved!
SCARY MOVIE 2
The Secret of N.I.M.H.
The Spiderwick Chronicles
The Thaw
Theater of Blood
To the Wonder
Unearthed
United States of Leland
Wiener-Dog (Amazon Original)
Young Adult
You're the Worst, Season 3
Available 9/2:
Scouts Guide to the Zombie Apocalypse
The Stinky & Dirty Show, Season 1 (Amazon Original)
Available 9/3:
Paranormal Activity: The Ghost Dimension
Available 9/5:
Doctor Who, Season 9
Available 9/9:
Basic Instinct 2: Risk Addiction
Braindead, Season 1
One Mississippi, Season 1 (Amazon Original)
Available 9/10:
Knock Knock (2015)
Available 9/12:
Bigger, Stronger, Faster
Cocaine Cowboys
Drillbit Taylor
Available 9/15:
Black Death
Ghosthunters on Icy Trails
Available 9/16:
Creative Galaxy, Season 2 (Amazon Original)
Fleabag, Season 1 (Amazon Original)
Schitt's Creek, Season 2
Stop-Loss
Available 9/17:
Captive
The Witch
Available 9/18:
American Gothic, Season 1
Available 9/19:
Freakonomics
Jiro Dreams of Sushi
Ondine
Shadow Dancer
Available 9/20:
Serena
Available 9/23:
Sicario
Transparent, Season 3 (Amazon Original)
Available 9/24:
Heist
Available 9/26:
180 South
Conan OBrien Can't Stop
District 13 Ultimatum (English Subtitled)
District B13 (English Subtitled)
Available 9/27:
No Place on Earth
Available 9/28:
Francofonia
Available 9/30:
Crisis in Six Scenes, Season 1 (Amazon Original)