Hilarious Clip Reveals What Thor Got up to in 'Civil War'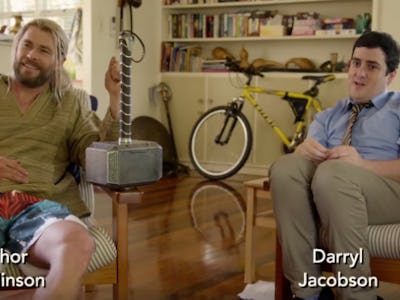 Marvel Studios
As much fun as big superhero crossovers can be, they often cause fans to ask the age-old question: Why would a superhero ever try to save the day by himself if he can just call up his teammates to come help?" The obvious answer that we probably all ought to be cool with by now is, "Well, because then the story we want to tell wouldn't work." But for those seeking an in-universe explanation as to why Thor missed out on the fun in Captain America: Civil War, look no further than this clip.
First shown at San Diego Comic-Con and now available online, While You Were Fighting: A Thor Mockumentary finds Thor moving to Australia and rooming with an office drone named Darryl, who appears less than thrilled about sharing space with an Asgardian. Taika Waititi, director of the upcoming Thor: Ragnarok, also shot this, and he brings the same comedic chops to this short that he's showed in past collaborations with the Flight of the Conchords guys. Humor has always been an underrated strength of the Thor movies, and Waititi and Chris Hemsworth — not to mention Mark Ruffalo as Bruce Banner — appear to have excellent comedic chemistry.
We'll leave it to you to decide the highlights from the clip, though it's hard to imagine anything topping the sight of Thor tucking in Mjolnir for a nice little nap. Between this and his scene-stealing work in Ghostbusters, Hemsworth is making a major play to be considered Hollywood's funniest Chris, which may just be our sneaky way of goading Chris Pratt into releasing something similar – to show what Star Lord's been up to lately.