San Francisco Is Building a Better, Smarter Intersection
Some nifty urban planning meant to make everyone safer.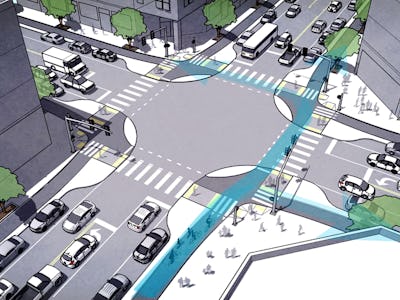 Nick Falbo
The city of San Francisco broke ground this past week on its first protected intersection at 9th and Division streets. The redesigned intersection is intended to keep bicyclists safely separated from drivers while also protecting pedestrians.
This new intersection is a more involved extension of protected bike lanes, in which a physical barrier is set up to create a buffer zone between cars on one side and bicycles on the other. The problem is that such barriers can't readily extend through intersections, which means San Francisco's urban planners have had to come up with a few additional innovations to keep everyone safe.
The most visible addition will be concrete islands at the four corners of the intersection. The islands, along with redesigned bike paths, will separate cars and bikes as they approach the intersection. The islands will also force cars to make slower turns, giving them more time to see pedestrians or bicyclists in the crosswalk ahead. The crosswalks themselves will be raised, again meaning cars have to slow down as they drive over them.
Construction is set to begin shortly and is scheduled for completion by the end of the year. For a more detailed look at how this all works, check out this video from urban planner Nick Falbo.