What If Vince Staples is Too Much for the Music Industry?
He's the Holden Caulfield of the rap generation.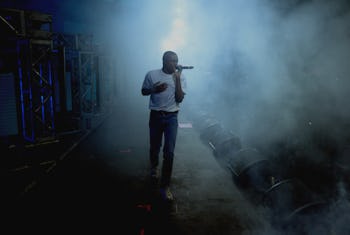 Getty Images / Michael Tullberg
Vince Staples released his Prima Donna EP today (August 26). In a short, 21- minute EP, Vince is able to give us a glimpse into his psyche – a complex mix of violence, girls, and depressive episodes – displaying that rap does not have to fit into a certain box to be considered rap. As the follow up to Summertime '06, he delivers a lyrical expertise with a certain West-coast twang that has always made Vince Staples a pleasure to listen to. We know that Vince Staples makes good music and that he is, by far, one of the most underrated rappers of our generation. But, what Vince Staples brings to music is special in that he is a representation of a certain real-world perspective that we do not often discuss in the music industry.
Everything is fake – from the music to our entertainment to the people who we tend to associate with. Everybody puts on a façade in one way or another – projecting a certain image in certain situations and failing to show people the totality of themselves. What makes Vince different is that he understands just how fake people are. In a 2015 interview with NPR, he states, "I saw that all of it was fake, from the streets to music to the government to my own family to my parents to — all of it was not real." Although some would call this bleak and depressing, there is a certain unspoken about truth behind his words.
And he displays this truth through his music. In the interlude at the end of his song, "Smile", he says, "Don't say you feel my pain / Cause I don't even feel myself / Blood rushing through my brain / Sometimes I want to kill myself. In the same 2015 interview with NPR, he states that, "Everyone's pretending they're not sad. Vince is not the first person to speak about this, either. Kid Cudi, Tyler, the Creator, and Capital Steez (rest in peace) have all spoken about depression and what they feel is the truth that exists behind the lies. It's like if Holden Caulfield was a rapper.
But, the best part about it all is that Vince Staples does not care. He doesn't drink and he does not smoke. He sees the social media age as corny. His difference is what makes him such a delight to listen to. If everybody made turn up anthems, we would lose the essence of what makes rap so great. In an interview with The Breakfast Club on Power 105.1, Vince Staples reveals that he never had aspirations of being a rapper. How did a person who never had any dreams of becoming a famous rapper become one of the most poignant artists of this generation? Nobody knows, but we have to thank our lucky stars that Vince Staples is around and is here to speak the hard truths that we would rather ignore.
Listen to Prima Donna on Apple Music and Spotify.