Colorado Police Use Suspect's DNA to Create 3D Model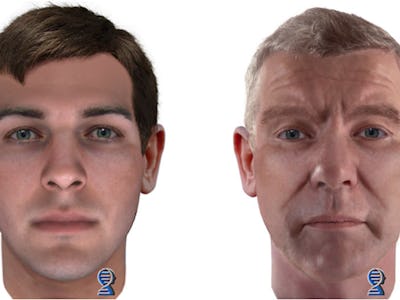 Aurora Colorado Police/Parabon Snapshot
Police in Aurora, Colorado, produced a computer generated image of a murder suspect based entirely on human DNA.
The man is a suspect in the killing of Debra Bennett, her husband Bruce, and her daughter Melissa in January 1984. Police collected DNA at the crime scene, but it didn't match databases at the time. As technology has progressed, the authorities have been able to return to the same information and seek out new possibilities.
"This is the first time we have had some idea of who we're looking for. He is no longer invisible," said detective Steve Conner, Aurora investigator, in a statement. "With release of these Snapshot composites, we hope people familiar with the case and the area at that time might be reminded of something or someone significant to the investigation."
The police employed Parabon NanoLabs, whose Snapshot DNA Phenotyping is able to analyze genetic information and predict a number of attributes, like eye color, face shape, and ancestry. Parabon produced two images: one of the suspect at age 25, and another digitally aged to predict what he would look like 32 years after the crime. Environmental factors may mean the suspect has a radically different appearance, like if he later developed a scar, but Parabon is optimistic the picture can help in the search.
"When investigators find themselves 'chasing a ghost,' Snapshot can provide a wealth of information to make the search for a suspect or person of interest more efficient," said Dr. Ellen Greytak, director of bioinformatics at Parabon, in a statement.
The technology is still relatively new. The first instance of an image based entirely off a DNA sample was in January 2015, when Parabon produced an image of a suspect in the murder of Candra and her daughter Malaysia Alston. The pair were murdered in their Columbia, South Carolina home four years prior.