Syfy's New 'Candle Cove' Teasers Will Give You Nightmares
Syfy's new series is joining a strong roster of new and exciting genre TV, and these teasers prove it's going to creep you the hell out.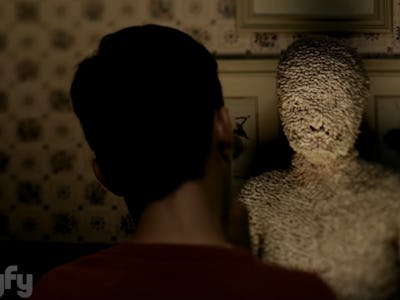 Syfy
Syfy's new teasers for Channel Zero: Candle Cove are here and they're creepy — super, super creepy. Which seems only fitting giving that it's based on one of the most legendary creepypastas of all time.
Creepypastas are user-contributed horror stories in the Creepypasta internet community that are designed to give readers the heebie-jeebies. "The Candle Cove" creepypasta from Kris Straub tells the story of a children's television program and its unsettling connection to a series of murders.
These new teasers are very brief (and full of teeth) but give a pretty good idea of the nightmarish aesthetic that we'll see in the series itself. Creepy kids? Alone in the woods? With a man made of chompers? Yeah, we'll be leaving the lights on, thanks.
Channel Zero is an anthology series, meaning that it will feature a new story every season, much like American Horror Story. It comes from Max Landis (Chronicle, Dirk Gently) and Nick Antosca (Hannibal), and while this first season follows the Candle Cove story, the next season will air in Fall 2017 with brand new nightmare fodder.
The series joins a strong roster of new Syfy shows that are bringing exciting and diverse selections back to the network. Shows like Wynonna Earp, Killjoys, Dark Matter, and 12 Monkeys have us really excited about what Syfy has to offer genre audiences, and we can't wait to see where they take Channel Zero.
Channel Zero: Candle Cove premieres on September 27 on Syfy.