#RogueOneWish Affirms the Humanity of Lucasfilm and 'Star Wars'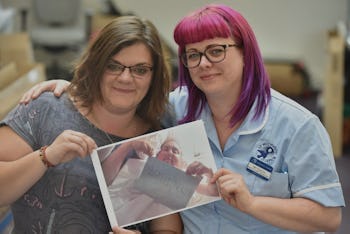 Twitter
Neil Hanvey was a British illustrator and web designer, as well as a Star Wars fanatic who was unfortunately diagnosed with terminal cancer a few years ago. His wife, Andrea, soon helped him move to St. Michael's Hospice in Hertfordshire, England after he was given months to live earlier this year. Because of his love for the galaxy far, far away, Andrea and the staff at the hospice began the #RogueOneWish campaign as a way to help Hanvey see Gareth Edwards's latest Star Wars film. After massive fan support, which included Mark Hamill retweeting Hanvey's hashtag, he finally got to see the film over this past weekend.
It's one of those rare instances that reminds you that the internet can do some good in this world, and that a huge corporate entity like Lucasfilm is still tuned to human stories of the fans that make these movies possible. News broke last year that J.J. Abrams helped another terminally ill fan named Daniel Fleetwood see The Force Awakens as well.
The social media campaign for Hanvey included the staff of the hospice coming up with lyrics to accompany the Star Wars theme to drum up support for him:
After the screening, Andrea sent out a thank you not to Edwards and Lucasfilm thanking them for making Hanvey's dream come true:
Unfortunately, Hanvey passed away on Monday at the age of 36. St. Michael's issued a statement following his death:
We would like to thank everyone who has passed on their condolences following Neil's death last night. All the messages of love during the past week have given us a great deal of comfort during a very difficult time. We would also like to thank everyone at St Michael's Hospice, especially Amy Duncan, without who #RogueOneWish would not have happened. All donations at Neil's funeral will go to the Hospice's Family Support team and will be used to fund work with children and young people.
Andrea also set up a donation page to raise money for the hospice, and you can donate below:
May the Force be with him.