Iraq's Robot Tank Is Cool but Won't Change How We Go to War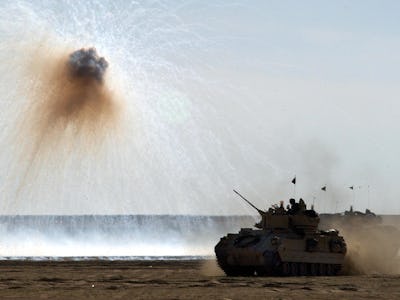 Getty Images / Muhannad Fala'ah
Iraq has built a robot tank outfitted with machine guns, rockets, and all the equipment needed to operate it remotely from up to a kilometer away. ISIS won't know what hit it assuming the robotic death machine ever sees a battlefield.
The Baghdad Post reports that the device, which has been dubbed Alrobot, was designed by two brothers. But it's not clear who they are, how they designed the tank, or when Iraq plans to deploy Alrobot as part of its efforts to retake the occupied city of Mosul from ISIS.
Defense One notes that this isn't the first time armed robots have hit Baghdad. If it actually reaches the battlefield, though, it could still be the first to fire a shot.
That's because the three Special Weapons Observation Reconnaissance Detection Systems — SWORDS — deployed in 2007 were removed from the battlefield because their guns moved around without being told to. That probably isn't particularly heartening to the soldiers who will be deployed alongside Alrobot.
But incidents like that aren't going to stop robots from becoming increasingly common during conflicts, whether they're in the Iraqi deserts or the streets of American cities.
Not all robots will be used offensively, though. Just take Spot, the robot from Boston Dynamics that can be used for scouting, carrying supplies, and going to dangerous places so humans don't have to. It's a utility bot, not a death machine.
Those robots could eventually change the battlefield, but it's going to take a while. Army program executive officer for ground forces Kevin Fahey said in 2008 that even though the SWORDS didn't hurt anyone, "once you've done something that's really bad, it can take 10 or 20 years to try it again." We still have a few more years left to go.