Will Marvel's 'Ant-Man and The Wasp' Double Down on Heisting?
Michael Pena is set to return to Marvel, hinting at the direction of 'Ant-Man and The Wasp"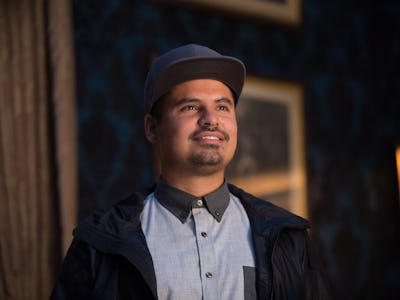 Walt Disney Studios Motion Pictures, Marvel Studios
2015's Ant-Man was an enjoyable outing for Marvel that introduced Paul Rudd's Scott Lang into the Marvel universe. But the real breakout character of the film was arguably Rudd's thieving comrade Luis, played by Michael Pena. It's been revealed that Pena will return for the sequel Ant-Man and The Wasp, which could imply a tone for the sequel.
The first Ant-Man served as kind of a heist film along the lines of Ocean's Eleven. The plot revolved around stealing a dangerous bit of technology from an evil corporate CEO, and featured all the moving parts of a heist film, including a "crew". Led by Rudd's Lang, Michael Douglas' Hank Pym, and Evangeline Lilly's Hope Van Dyne, the three characters recruited a heist team that included Pena's Luis as the comedic best friend in order to infiltrate the company and steal the Macguffin tech.
Details emerged that Pena, along with the rest of the heist team could see a return in Ant-Man and the Wasp which expands the title's billing to include Lilly's Hope Van Dyne winged superhero. If that's true, then the sequel could double-down on the heist concept from the first film.
Paul Rudd previously appeared in Captain America: Civil War where he sided with the fugitive Capt. America, only to find himself in prison. The end of the film suggested that Lang broke out with the rest of Team Captain, though his life as a fugitive would only add to Lang's existing criminal record. The film could potentially explore more of his career criminal lifestyle in the sequel.