The Pokémon Aimer for Your iPhone is Now Being Mass-Marketed
It's like training wheels for your fingers.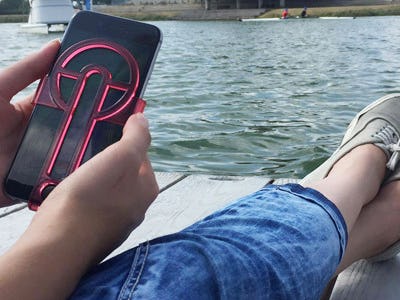 If you've yet to master the ability to throw a Pokéball in Pokémon Go, Israel-based Innotop is now mass-producing its own Pokémon Aimer — a plastic frame that slides over an iPhone to guide a player's fingers as he "throws." It's the training wheels of Pokémon Go, for players who find themselves wasting the limited number of Pokéballs.
The design is reminiscent of another product designed by Jon Cleaver, who used a 3D printer. Where previous designs were somewhat clunky and almost seemed to get in the way, this new version is a sleek design that guarantees the same precision as previous versions of the device. It has two different modes – Aimer Mode and Carry Mode.
Aimer Mode is what allows you to throw the Pokéball and Carry Mode attaches the Pokémon Aimer to the back of your phone when you are not playing the game. So, if you don't mind frequently taking off and reattaching the aimer, it might be a good investment.
At the moment, the Pokémon Aimer is only available for iPhone 6 and iPhone 6S. But the company is expected to release updated versions for other cellular devices soon. The $10 item can be purchased through the company's website. If all goes well, this might be a good accessory for budding Pokémon Go players — if Niantic doesn't file a copyright claim.