Fox Shut Down 'Idiocracy' Director's Anti-Trump Ads
Mike Judge, Etan Cohen and Terry Crews were working on a series of satirical political ads, but Fox shut it down.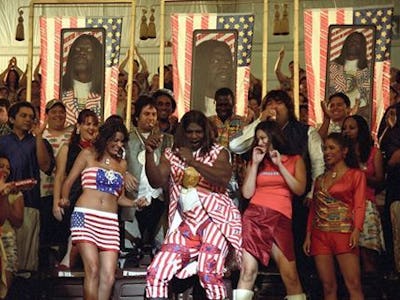 20th Century Fox
The man who brought us Idiocracy was planning a series of satirical political ads starring the film's legendary President Camacho, played by Terry Crews. Thanks to Fox, you'll never see them.
It's hard not to draw comparisons between reality and Mike Judge's 2006 film about a future America following a sharp decline that landed the country in a roiling swamp of crass consumerism and meaningless celebrity.
People have been making the Idiocracy-is-a-documentary joke for years.Rolling Stone's David Fear drew the comparisons back in 2014, in those heady days of the pre-Trump campaign America. Even then, Fear called Idiocracy "the smartest stupid movie ever made, a Swiftian satire that, seen now in the Year of Our Lord 11 A.K. (After Kardashian), feels more pertinent than ever."
Naturally, the comparisons have become increasingly common as the presidential election approaches November.
"Three or four years ago, I started getting comments about it, people discovering it, and it just keeps building," Judge told The Daily Beast. "Now every other Twitter comment I get is about Idiocracy, and how it's a documentary now."
Following some similar Twitter interactions of his own, Idiocracy screenwriter Etan Cohen, Judge, and Terry Crews (who played President Camacho in the film) began working on a series of satirical political ads. But when it came down to Idiocracy rights owner 20th Century Fox signing off on the ads, the effort went downhill.
"It kind of fell apart," Judge said. "It was announced that they were anti-Trump, and I would've preferred to make them and then have the people decide."
We'll never see the ads, but we imagine they were just as incisive as the film that inspired them. For now, goodnight, sweet ads.