Taekwondo Is Fairer Than Ever This Olympics
Sensors in head and body protectors are easing judging.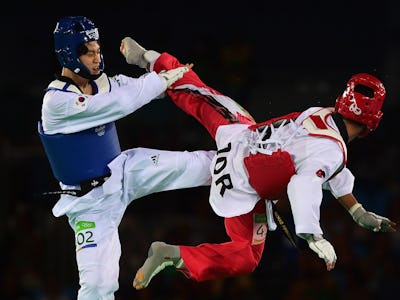 Getty Images / Laurence Griffiths
On Thursday, the world was introduced to the fairest taekwondo judging ever.
Until 2008's Summer Olympics, taekwondo was closer to gymnastics than boxing: Judges looked at the art of taekwondo as opposed to the science. In Beijing, taekwondo saw some of the most dramatic moments the sport had ever seen: Sarah Stevenson of Great Britain was eliminated from competition when the judges didn't catch a game-making blow she delivered. After television replays show that she did, in fact, stick it, the judges reversed the decision and awarded her the bronze. The International Olympic Committee and the World Taekwondo Federation had their work cut out for them, though: clearly, judging by sight alone wasn't going to cut it.
In Rio de Janeiro, taekwondo is a different, more technologically advanced, sport. Athletes strutted out onto the octagonal mat to their own pump-up song, courtesy of a standby DJ. Matches were fought with the aid of impact sensors in body and head protectors, wearing footpads lined with magnets. The footpads activated the sensors right before a blow or a kick, which alerted judges to a point.
"The inclusion of these resources forces the athlete to always adapt, which is very good," said Olympian Rui Bragança of Portugal. "I started the sport at the time when technology wasn't present, so there was a lot of doubt in the results. This has now disappeared, because human error has been eliminated. This is absolutely the path to follow."
Now every time a kick lands, the ignited sensors immediately make it known to the judges. It takes between 0.1 to 0.2 tenths of a second for a judge to receive the information into their systems. Here is a demonstration of how the electronic head gear works:
While the objective of the sport remains the same — deliver kicks and blows to the torso — it does place an emphasis on the athlete's precision rather than strength. The upside to this is that while there is also less emphasis on showing beauty in movement, trainers have a clearer idea of how to train their athletes. Aim is key; showmanship, less so.
Want to try the tech out yourself? Then get in the ring. You'll just have to throw down about $700 for the privilege.