Explorers May Finally Dig Up Legendary Nazi "Gold Train"
The project began on Tuesday.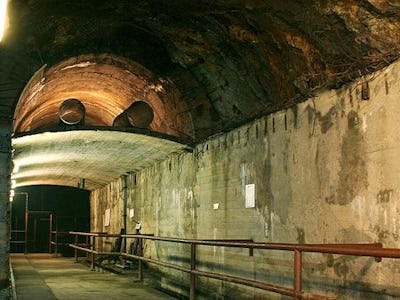 Wikipedia
Right now, a team of 35 excavators is furiously digging underground between the towns of Wroclaw and Walbrzych in southwest Poland. Their mission: to unearth a legendary Nazi train thought to be filled with jewelry, gold, and guns. Hopefully.
The train is believed to have been lost around May 1945, in the final days of World War II. According to myth, German soldiers filled it with weapons and treasure, riding the train to escape the approaching Soviet Army. They disappeared into a mountain tunnel in Poland and were never discovered again.
Until perhaps now. Amateur explorers and historians Piotr Koper and Andreas Richter surprised the world last fall when they announced that they claimed to have traced the 98-meter-long train's whereabouts to a tunnel outside Walbrzych using ground penetrating radar. But many experts are skeptic. Decades of various searches and investigations have proved fruitless, with no historical evidence that indicates where the Nazi gold train may have gone — or if it even existed at all. But if it does exist, the Polish news site Wiadomosci Walbrzyskie reported last year that up to 300 tons of gold may be found aboard.
If the train is buried in this tunnel, it still won't be easy to get to. There is a hazardous buildup of natural gas in the Walbrzych underground tunnel. Not to mention the possibility of old booby traps or explosives. Regardless, Koper and Richter — along with 33 other explorers — push on in this privately-funded excavation. If discovered, the duo had previously demanded 10 percent of the train's value as a finder's fee.
The dig began Tuesday, with a livestream available for audiences around the world to watch the search unfold in real time. It may not take long: "The train is not a needle in the haystack — if there is one, we will find it," spokesman Andrzej Gaik said, in a statement to the Agence France-Presse news agency.
Follow the dig online on Facebook or at zloty-pociag.com.