Jared Leto Is Full Of Rage, Says "Fuck 'Em" to Warner Bros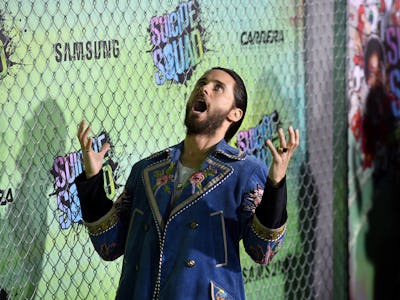 Getty Images / Bryan Bedder
Jared Leto, an Oscar-winning actor whose turn as the villainous Joker in Suicide Squad was less than spectacular, recently voiced his thoughts in an eloquent statement leveled at Warner Bros: "Fuck 'em."
Sounding off at a Q&A at Camp Mars, a getaway for fans of the space rock band Thirty Seconds to Mars (for which Leto is the frontman), Leto explained his tight contract with Warner Bros. for multiple films – since being the Joker precludes him from participating in risky hobbies like rock climbing, which Leto frequently enjoys. In few words, Leto spelled out his frustration: "My answer is: Fuck 'em."
Leto is probably pissed at Warner Bros. even without the restrictions. A fan in attendance wrote of Leto's demeanor at the camp on Tumblr — which has since been deleted but is up on Batman-News — that Leto was disappointed over Suicide Squad and that he felt "tricked" by the company.
"He was very honest about the film this weekend," the post writes. "[H]is disappointment in what he's learned of the theatrical cut (he's still not seen the film); feeling sort of tricked into being a part of something that had been pitched to him very differently; thinking it would've been more artistic than what it became; feeling overwhelmed by the hate regarding the look and choices."
Curious. At what point do you think Leto felt overwhelmed? Was it when he gave his co-stars dead rats, or when he starred in a Skrillex and Rick Ross music video?