New 'Rogue One' International Trailer Gives Away a Major Galen Erso Spoiler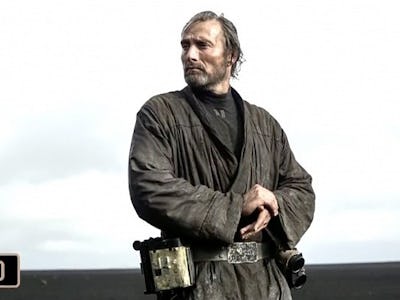 YouTube
Just as international markets become more and more important to Hollywood blockbusters like filmmaker Gareth Edwards's upcoming standalone Star Wars movie Rogue One, so do the international trailers to go along with them. Lucky for us, studios tend to add tidbits of footage that were left out of the big domestic trailer releases, and the spoiler-ific worldwide clip for Rogue One is no different.
It may look exactly the same as the trailer that debuted during primetime at the Rio Olympics recently, but Star Wars fans will be able to extrapolate the one big new detail and a few extra snippets of gorgeous new footage. It's only a few seconds, but it counts.
While some new shots of Donnie Yen's Chirrut Imwe character are great, perhaps the biggest development is how the Rebels find out about the Death Star in the first place: Jyn's father, Galen Erso, the unseen character played by Mads Mikkelsen in the final film.
See if you can pick out the spoilers below:
"We've intercepted a coded Imperial transmission, It indicates that a major weapons test is imminent, says Rebellion leader Mon Mothma to Jyn, in a line we've heard since the first teaser trailer was released in April. Then, Diego Luna's character, Rebel Alliance officer Cassian Andor, saunters over to her and says, "The message was sent by your father."
It looks like we correctly guessed, based on Mikkelsen's comments during the Rogue One panel at Star Wars Celebration, that Galen was the guy behind the technology the Empire used to create the Death Star.
"He invented something so beautiful it could have changed the universe," Mikkelsen said during the panel, which also revealed our first and (so far) only look at Galen seen above.
It seems that once old Galen found out what Ben Mendelsohn's evil Orson Krennic character and his Imperial goons were going to do with his technology, he leaked some vital information to the Rebels that will ultimately dictate his daughter's mission to capture the plans to the planet-destroying battle station for the the anti-Imperial forces.
Is he a cowardly traitor or a sympathetic and conscientious objector? We'll have to wait until Rogue One hits theaters on December 16.