Hollywood's History of Turning Scientists Sexy
Turning sixes into tens since the dawn of Hollywood!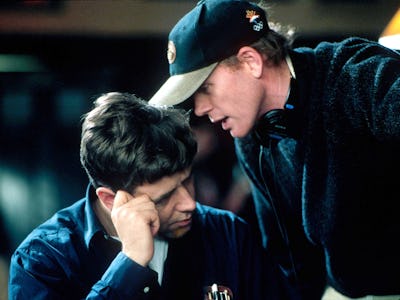 Getty Images / Getty Images
Word broke on Monday that Geoffrey Rush will play Albert Einstein in National Geographic's first scripted series, Genius.
An age-old cinematic question emerges once more – nerds! How do we make them fuckable? Do we put them in vests? Do we give them a hot student? Do we just fail to do any research and replace all dialogue that should be science-y with shy-boy porn?
Sure, good for ol' Geoffrey, but there's a sexy young Hollywood Einstein in this series, right? I'm not just going to watch a moving portrayal of an older man, right?
Nope! Good news: there's a sensitive boy with a stringed instrument for young Einstein.
Actor Johnny Flynn is in good company – Hollywood's been turning shut-ins who smell like tuna into full-fledged sexy scientists since time immemorial. Here are our favorite soft-core, sexed-up male scientists of the cinema.
Russell Crowe in A Beautiful Mind
The beautiful and sad subject of A Beautiful Mind is game theory creator and schizophrenic scientist John Nash, whose handsome but not-too-handsome looks were trumped by Crowe's tanned haunches. While there's no doubt that Crowe earned the Oscar nomination he received for this part and then some, he definitely made some difficult subject matter a little easier on the eyes.
Eddie Redmayne in The Theory of Everything
Oh, Eddie Redmayne. So handsome, so posh, so eager to fill up his trophy cabinet. The actor conjured an admirable portrayal of famed physicist Stephen Hawking in 2014's The Theory of Everything, answering the question we have all been asking for eons – what if Stephen Hawking had striking cheekbones?
Now we know.
Sigourney Weaver in Gorillas in the Mist
Gorillas in the Mist follows the life and research of scientist Dian Fossey, who specialized in primate research and communication. This is the sort of role for which, I feel, a casting director CC'd Sigourney Weaver, Julianne Moore and Marcia Cross with the subject line "NEEDED: STRIKING RED-HEADED ACTRESS OF A CERTAIN AGE" and whoever replied first got the gig.
In this case, Weaver is the one who glams up the gorilla gal, toting an impeccably perfect braid and a bond with the gorillas that is so profound you think she might hook up with one. Sexy!
Ashton Kutcher in Jobs*
Most biopics are a drag, but the ones that lay on the fringes of greatness or true disgrace are something to behold. Ashton Kutcher in the too-soon biopic of Steve Jobs is thoroughly the latter, teaching a veritable master class in wanting to be taken seriously.
Do yourself a favor and watch the three-minute montage of Jobs being euphoric while thinking about computers in a field, the scene where he yells at Bill Gates on the phone, the infamous "I already fired you" scene, or any strained scene he has with Steve Wozniak, played by the poor man's Jonah Hill (Josh Gad). Hill and Michael Fassbender would turn out a stronger, but less sexy effort two years later.
Lizzy Caplan and Michael Sheen in Masters of Sex
In the only sexy TV scientists to make the cut, Michael Sheen and Lizzy Caplan playing famous sex-positive social scientists William Masters and Virginia Johnson are perhaps the most drastic sex-up of the bunch, looking at all times like they are about to invite you to have a three-way with them.
Which, let's be honest, you absolutely would.
Ball's in your court, Indie Einstein!