Apple CEO Tim Cook: This Fall, Siri Gets Wise
"It will become even a better assistant than it is today."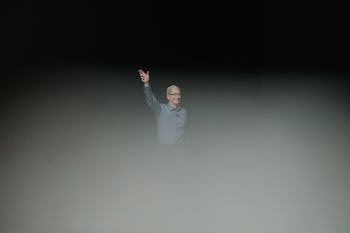 Getty Images / Stephen Lam
Siri is like your second cousin. Your second cousin rarely makes an appearance in your life, but when she does, she's got good news. It always seems possible that she'll become a more central part of your life, but, time and time again, she stays on the outskirts. Tim Cook, Apple's CEO, would like that to change. As is his role, he's playing the overbearing grandfather, attempting to cultivate a bona fide relationship between you and Siri. In plain English: Cook is opening Siri up to third parties, meaning that she will be smarter and more capable than ever before. And it all begins this fall.
On Saturday, the Washington Post published a 7,000-plus-word interview with Apple CEO Tim Cook. Cook, who is Steve Jobs's successor, has been at the helm for five years, so he's chosen to take an opportunity to reflect on his time there.
The interview, then, covered much ground. Cook and interviewer Jena McGregor spoke about money, products, politics, the past, and the future. One part of the conversation stood out, though: artificial intelligence and Siri. First, Cook expects A.I. to explode and make us (if imaginable) even more connected to and reliant upon our devices:
"AI will make [smartphones] even more essential to you. It will become even a better assistant than it is today. So where you probably aren't leaving home without it today — you're really going to be connected to it in the future."
Though we've known that Apple was going to share Siri and A.I. functionality with app developers, we've been given little substance to chew on. Now, we know more: Siri gets wise this fall, and the use cases are going to be pretty darn cool.
"…we announced in June that we're opening Siri to third parties…. So a simple example with that, whatever kind of ride-sharing app you might use, Uber or Lyft in the United States, you could just — using your voice — order the car. So third-party developers are writing tons of those that will be available to the public in the fall."