The U.S. Military's Most Advanced Fighter Jet Gets Grounded by Bees
The power of teamwork in action.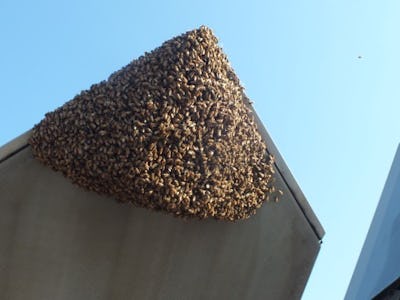 Carlos Claudio, USAF
Few things can stop the sheer power of the F-22. Hailed as the most technologically advanced of the U.S. Air Force's fighters, the F-22 Raptor created by Lockheed Martin, and the U.S. military possesses about 188 of them. At 62 feet long, with a wingspan of 44 feet, the jet is a fast-moving titan, reaching speeds of up to 1,498 miles per hour. One of the newest fighters to join the ranks, the F-22 is perhaps best known for its role in the Global Strike Task Force. Each one costs about $148 million.
Needless to say, the F-22 is kind of a big deal. Going head to head with the multi-role fighter under any circumstance sounds like a bad idea, given that its primary function is air dominance, but every titan finds its challenger eventually. This one just happened to appear in the form of a bee swarm.
The drama unfolded Thursday at the Joint Base Langley-Eustis in Virginia, when an F-22 aircraft from the 192nd Air Wing found itself subject to a migrating swarm of nearly 20,000 honey bees. The species is close to extinction, so the crew on base called in a local beekeeper to clear the swarm, who also cleared up the air on how this happened in the first place. As luck would have it, this particular beekeeper also happens to be a veteran of the U.S. Navy.
"Bee hives are constantly growing and they eventually become overcrowded," Andy Westrich, veteran and beekeeper, told CNN. "Around springtime, the bees will make a new queen, scout for a new location and take half of the hive with them to that location." Using vacuum hoses, Westrich carefully removed and contained the swarm, taking it home and weighing it in at a little over eight pounds.
Westrich said that the hive's new queen likely settled on the jet's nozzle to rest (hives often migrate to new locations with new queens) and since the hive never leaves its queen, everyone decided to have a kick-back right on the nose of the military's shiniest new toy.
The Raptor was cleared to resume all operations after the swarm was removed and transferred away from it.