Watch 100,000 Cargo Ships Move Around the Earth in Real Time
Worldwide pollution in one picture.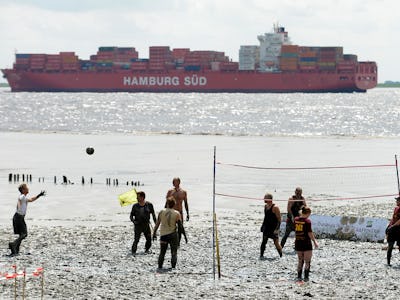 Getty Images / Patrick Lux
Nearly 90 percent of everything we buy today has been shipped internationally at some point. It says something about American industrialism and trade, as well as just how much pollution goes into our oceans every day. Trade systems running across the Atlantic and Pacific are as old as ships themselves, but until now, it's been something of a challenge for those within the shipping industry (and those opposed to its practices) to truly show the public how massive it is.
Commercial ships produce more than a million tons of carbon dioxide from bunker fuel every day, which is where this exceptionally useful practice suddenly stops being so helpful to us. Below, the sheer mass of the world's shipping industry is highlighted in a moving map that simulates all of the documented delivery routes from the year 2012.
The map was created by a digital journalism studio named Kiln using research data from the UCL Energy Institute. Researchers first pulled data from exactEarth, which tracks seafaring shippers. Using each ship's specific identification number, they were able to determine other factors about the ships thanks to tracking data, such as engines, speed limits, and carbon emissions.
The map breaks down ships into five major categories: container, dry bulk, tankers, gas bulk, and vehicles. Curious users can check out the individual routes by zooming in and using the color options on the map to help identify each one. The map is only slightly off for the first quarter of the year, thanks to incomplete data.
Some of the world's biggest shipping lanes are on full display and easy to zoom into, if you know what you're looking for. Among these are the Panama Canal — best known for connecting the Atlantic to the Pacific — and a highlight off of the coast of China, where 2012 saw its greatest number of shipments export from. While researchers say that the number would only be "slightly higher" today, ship traffic could increase greatly by 2050 thanks to an ever-growing population, and could take up roughly 17% of total greenhouse gas emissions in the world.