Fool Your Snapchat Followers Into Thinking You're Partying Instead of Sleeping
Late Night Snap Hacks will make it look like you're always having an amazing time.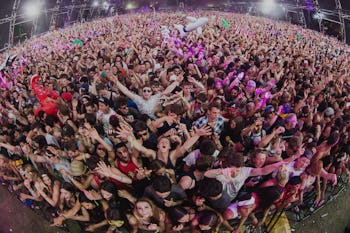 Flickr/Thomas Hawk
If you're an avid user of social media, you've probably experienced FOMO, the fear of missing out. However, maintaining a facade of non-stop fun-having is exhausting … but new app Late Night Snap Hacks will do all the heavy lifting – or posting – for you.
If it's one of those nights when you can't be bothered to go to the club, you'll probably want to visit Late Night Snap Hacks. The new website contains ten scenes to choose from, including a concert and a nightclub, to film on Snapchat with your phone and send out.
The fake snaps available on Late Night Snap Hacks could easily trick a Snapchat follower skimming through everyone's stories, but the lack of variety on the website will surely become a problem if enough people start using it.
Even though it might be slightly embarrassing if you get caught using Late Night Snap Hacks, at least it'll highlight the travesty that we live in a world with enough people committed to upholding their image on social media to warrant its mass use. As is the case with a majority of social media developments, it's up to you to decide if this one is beneficial or a signal of society's demise.