What's Slow TV Good For? A Tour of Norway on the Cheap
If you're looking to kick back and get to know Norway's scenic beauty, this is the place to do it.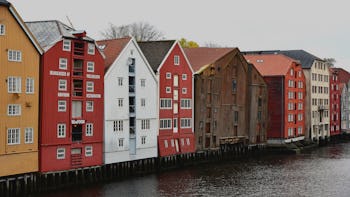 Larry Lamsa (Creative Commons 2.0)
The prospect of settling in for several-hours long televised train excursions, boat voyages, and burning fires might seem odd to the uninitiated, but Norway's Slow TV has become something of a snail's pace sensation. Originally broadcast on Norway's NRK channel, Slow TV has taken viewers all over Norway, from fjords to fireplaces. Now some of these installations are available on Netflix, including Northern Railway, Train Ride Bergen to Oslo, and Northern Passage.
Norway has a rich history and cultural marvels to keep visitors busy for months, but arguably the country's greatest draw is its natural beauty, and a long-ass ride through a sizable portion of the country is one of the best ways to see it. Fjords, mountains, valleys, rivers, steep cliffs, and rolling hills are all par for the course in Norway. Sure, the very best way to see it is IRL but unless you're booking your flight today, Slow TV's not a bad introduction. There are other Slow TV selections, but these three are the best for getting to know Norway.
By Land
By far the most emblematic of the series is Train Ride, which is a seven-hour, real-time journey from Bergen to Oslo from the vantage point of a camera mounted directly on the front of the train. It's hard to really describe other than to say that it's gorgeous and it's exactly what you think it is. The ride's smooth, it's quiet, it's beautiful, and there's a bit of variety — snowy surroundings, mountains, trees, rushing water, etc.
One thing to watch out for? Tunnels. There are a number of times where the train goes through tunnels and everything, as you might imagine, goes pitch black. So black and so quiet, in fact, that you'll probably think that Netflix has suddenly gone buggy. Some of these tunnels last for a minute or two, so just be patient and look for the light.
Outside, you'll want to look for some of the idyllic Norwegian villages, small towns near the water, and vast expanses of the uninterrupted landscape.
Northern Railway is the abridged version of an original NRK broadcast of the train ride from Trondheim to Bodø (pronounced boo-duh). The original program was 10 hours long, but the version on Netflix is a condensed 52-minute ride that includes some historical and geographical context for the sights seen outside the train's window. It starts in Trondheim, a Viking village-turned-Norwegian city that served as Norway's capital until Oslo took on the mantle in the 14th century.
In this region, the Norway we see outside of the train is beautiful and rolling, home in large part to farms and the aforementioned rolling hills. The scenery is gorgeous, and probably not what one might immediately think of when one hears "farmland." As we travel further north, though, the landscape gets more rocky and mountainous, giving way to snow-capped peaks, vast forests, and a lot of water.
Norway's landscape is deeply varied, and much of Norway's most impressive sights are in the northern part of the country. This is the land of dramatic mountain ranges, glaciers, and majestic fjords. On the trek north, we'll enter the Arctic Circle and see the landscape change, becoming more rocky and covered with vegetation better-suited to the far-northern climate.
Northern Railway's a pretty great (if brief) look at Norway from the vantage point of the tracks. There are some interviews with passengers that are a little lackluster and largely amount to people talking about how it's easier to sit in a plane than it is to drive a car and that there's more to see from a train window that there is a plane window. But throughout the 52-minute look at the Northern Railway, it's easy to see the diversity in Norway's landscape and terrain, which is a crucial part of understanding why the country is so beautiful.
It's also worth noting that Northern Railway is a pretty good look at Norway's rail system, NSB. Though it goes all over the country and provides some incredible scenic views, NSB is Norway's primary method of train transportation. This isn't a luxury train ride, and, in fact, the 10-hour journey costs less than $130 USD. Think of it as Norway's Amtrak if Amtrak was a lot less sketchy and its journeys were a lot more picturesque.
By Sea
Like Northern Railway, Northern Passage is a condensed version of longer broadcast. The original, in this case, was a 24/7 broadcast that went on for six days on Norway's NRK.
Also like Northern Railway, Northern Passage is an introduction to one of Norway's most prominent forms of transformation (though more scenic and more touristy than NSB): Hurtigruten.
Hurtigruten operates a number of coastal voyages in Norway, and Northern Passage follows the MS Nordnorge's journey from Bergen to Kirkenes, which is really, really far north. For that reason, this is a great look at all of Norway from a totally different vantage point. You're going to see a whole bunch of fjords, but also get a look at the famous Lofoten chain — a famous Archipelago off the coast of Northern Norway that's firmly in the Arctic Circle.
One of the most popular tourist destinations outside of Norway's major cities, Lofoten is breathtaking and unlike anything else in the world. Mountains rise up out of the water, their own islands surrounded by the Norwegian Sea. A good portion of the Nordnorge's voyage focuses on Lofoten, and it's likely the portion of the trip that'll stick out as most impactful, but coastal Norway has no bad views and no unsightly portions — it's all beautiful.
You want idyllic houses perched on steep hillsides? You got it. You want kayakers and replica Viking boats waving bon voyage? You got it. You want some mountain views that look like they Tolkien himself dreamt them up and that you'll be seeing from a totally impossible vantage point for most? You got it. You'll see fishing villages, coastal towns, a mostly naked water-skier, and Trollfjord — home of the trolls, obviously.
Northern Passage is really like the companion piece to Northern Railway, and between the two of them, you might start to understand why people who have been to this country tend to fall in love with it. The views here, particularly up north, are singular and stunning, and Slow TV makes for a great way to take a tour on the cheap. Fair warning, though: You might find yourself wanting to take the next step after you finish what Slow TV has to offer, so be aware that flights to Norway are cheap, everything in the country is expensive, and it's got some of the best chocolate in the world in Freia — don't leave the airport without some to take with you.