'Pokemon Go' Player Shot and Killed in San Franciso
Authorities have yet to determine what prompted the murder.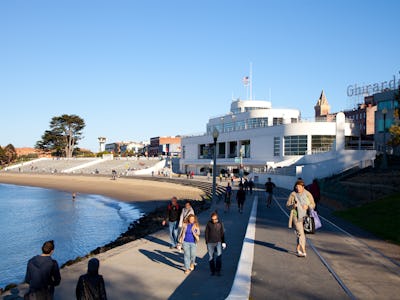 Wikipedia
In perhaps the most tragic incident involving Pokémon Go to date, Calvin Riley of San Mateo, California was gunned down while playing the popular game late Sunday.
Riley was just a year out of high school – studying kinesiology and playing baseball at San Joaquin Delta College in Stockton, California. Family friend John Kirby told NBC news that during a visit to Aquatic Park near San Francisco's popular Fisherman's Wharf, "Calvin got a few steps ahead of his buddy. He went around the corner, and his buddy heard gunshots. It seems to be a random act of violence — for no reason."
Robbery doesn't appear to be the motive, as none of Riley's belongings were taken, and Sgt. Robert Jansing, a detective with the U.S. Park Police told the L.A. Times that "there doesn't appear to be any outstanding motive right now."
A GoFund Me page started to help Riley's family pay for his funeral, describes the incident in simple terms, "As of now all we know is Calvin was shot randomly while playing Pokémon Go."
The Aquatic park in Fisherman's Wharf is a popular destination in San Francisco, and the area had around four million visitors in 2014, but no one reportedly witnessed the crime.
Niantic's augmented reality game exploded onto the scene earlier this summer and involves players traveling through real-world environments to locate and capture rare and powerful Pokémon. Though it's not clear the game caused Riley's assault — the areas around Fisherman's Wharf are popular tourist destinations and enjoy a relatively low rate of violent crime — but it can sometimes puts players in dangerous real-world situations.
The unfortunate incident is the most recent in a string since the game's release. Whether its a man trying to lure young players into a van as reported by the Boston Globe or over-enthusiastic players breaking into a zoo entering, incidents involving the game muddy the waters of liability when game invites people to catch imaginary monsters in a world full of actual danger.