Here's a Tip for Olympians: To Win Gold, Wear Red
Especially if you're in a refereed sport.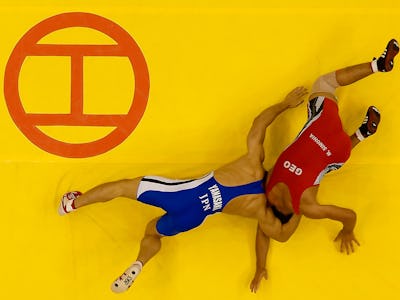 Getty Images / Lintao Zhang
Going for the gold? Scientists suggest you wear red.
On a subconscious level, the color you wear can influence how you perform, and research has found that red can increase your chances of winning. For countries with red as a national color, this is a real advantage.
In 2005 Russell Hill, an evolutionary psychologist from the University of Durham, and his colleague Robert Barton looked at win rates for competitors in Taekwondo, boxing, and wrestling who were randomly assigned to wear red or blue. "Wearing red seemed to be particularly important when two individuals were very closely matched," says Hill. In close matches, the individual wearing red won 60 percent of the time.
It's not quite clear why red is favored. Hill and Barton contend that it's because red is associated with male dominance displays (in other animals) and this extends to humans. Either way, in bracketed sports like Taekwondo, they've changed the system so that athletes are assigned a color based on their position in the bracket. And in Rio, for the first time, athletes competing in Taekwondo are going to wear pants in national colors. Judo uses blue and white uniforms, to remove red from the equation entirely.
But in sports where athletes can make their own choices about what they wear and points are awarded by referees, red still plays a big role. In 2008, a different study digitally swapped the colors of recorded Taekwondo bouts and had referees score them. They found that referees awarded more points to athletes wearing red.
And although athletes can control some of the colors that they wear, a lot of uniforms in the Olympics feature national colors. This might give a slight advantage to nations who have red in their colors. The U.S. women's gymnastics team probably doesn't need the edge that comes with bright red leotards bedazzled with 5,000 Swarovski crystals apiece, but they are taking advantage of the red effect to its full extent.
However, one big element in red creating confidence is that athletes need to feel confident in what they wear. There has already been significant backlash to the opening ceremony outfits for the Chinese Olympic team, for looking like fried eggs with tomato.
But the bright yellow and red might not have a negative effect on the Olympic chances for the Chinese athletes. Along with the red effect (which they're still benefiting from), national pride can't be discounted. "There could certainly be effects based on the national elements of the team colors," says Hill. So some of the ridiculous opening ceremony and team outfits may not have a negative effect on performance, if they make athletes feel like they're on top of their game.
And although Tom Daley won't be diving in much more than his abs, he probably feels pretty confident in them.