DC Hero Risks Detention, Death in 'Blue Beetle' #1 Preview
"So...don't, like, die or anything."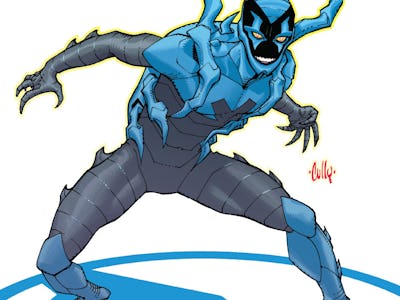 When Inverse spoke to Geoff Johns about DC's Rebirth changes, he was psyched about a few particular panels in his temporary goodbye comic – namely, the ones featuring Jaime Reyes and billionaire Ted Kord arguing. Blue Beetle, Johns said, was one of the most exciting variables in the publisher's renewal. He even described what he thought would be an awesome superhero TV show, namely Reyes and Kord exchanging witty barbs while working with the Beetle tech.
DC's Blue Beetle: Rebirth #1 will be available August 24th, but we've got a preview of the upcoming issue below. If you need a refresher, Jaime Reyes is the third person to claim the "Blue Beetle" name and use a super-powered scarab to fight crime and travel intergalactically. In Rebirth, he's working as an independent superhero under the sometimes-demanding, sometimes-frustrating wing of the former Blue Beetle, Ted Kord, who took the moniker from the original BB, Dan Garrett. In the segment below, Jaime tries to break up an argument between his best friends and rushes off to get in position as a superhero, though he knows he'll get detention for leaving school.
Blue Beetle: Rebirth #1 will be available on stands in comic book stores August 24.