Toni Braxton's Son Is Probably Not Cured of Autism
Fact: Autism is a disorder, not a disease that can be cured.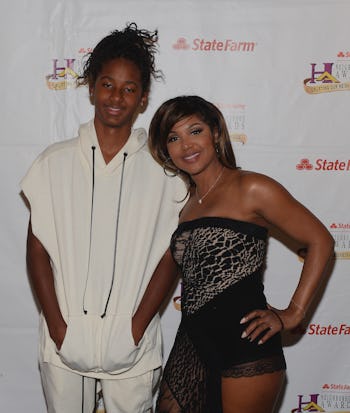 Getty Images / Bryan Steffy
Former R&B star Toni Braxton proudly announced that her son no longer had signs of autism on Thursday, prompting a series of confused tweets from fans unsure what her statement really meant. In an interview with Access Hollywood, the seven-time Grammy winner said that her son Diezel, who had been diagnosed early and enrolled in a treatment program, has "no signs of autism," morphing into his current state as a "social butterfly." While Braxton's fans were effusive with their congratulations and well wishes, many of them questioned her understanding of her son's diagnosis.
"I don't understand Toni Braxton saying that her son no longer has Autism. Autism cannot be cured. I'm confused here," one user tweeted. Another accused her of giving parents "false hope." We can't blame Braxton for being thrilled that her son had so quickly learned how to manage his behavior effectively, but her statement, which suggested her son had been cured of autism, misled many of her fans.
To be fair, Braxton didn't use the word "cure" in the interview, but her candid statement prompted many media outlets to assume that's what she meant. Gossip blogs ran headlines such as "Toni Braxton Says Son Diezel is 'Cured' of Autism" and, less subtly, "TONI BRAXTON: MY SON IS CURED OF AUTISM," leading to more confusion about what autism actually entails.
Autism and autism spectrum disorder are terms referring to a group of brain development disorders whose symptoms — which can include intellectual disability, problems with social interactions, and repetitive behaviors, among others — generally show up around age 2 or 3. With an early diagnosis and the right interventions, these behaviors can be curbed, allowing autistic individuals to manage their disabilities. But autism is a disorder, not a disease that can be cured.
In the hypothetical scenario where autism was curable, there are plenty of people who wouldn't be able to benefit. Autism awareness activist groups, such as Autism Speaks, have made it a point to promote the understanding that people with autism are not deficient but merely different.
To Braxton's credit, she's been a very vocal advocate for autism awareness throughout her son's struggle with the disorder, writing in her memoir Unbreak My Heart that "there is nothing wrong with our babies, and it's nothing you've done or you could have done differently, it's just what the situation is." It's fair to say that what Braxton most likely meant in her interview was that her son's behavioral therapy had reduced his symptoms to a negligible level, allowing him to function as an average human being.
(Braxton has also, however, claimed her son's diagnosis was a punishment from God for an abortion she'd had earlier in her life, but that's another story.)
As of Thursday evening, Braxton hasn't responded to the media's consternation over her vague statement, but given her track record of representing the autism awareness community, it's likely she'll issue a clarification soon.