Hacker Leaks Hundreds of SAT Questions, but Don't Party Yet
Cheating on mandatory tests catches up with 2016.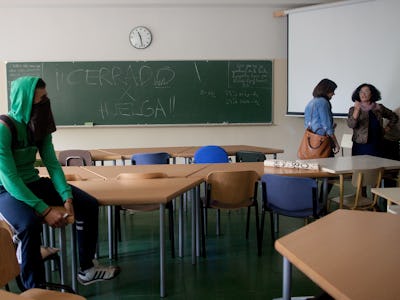 Getty Images / Pablo Blazquez Dominguez
Students of America, rejoice! The much-disliked Scholastic Aptitude Test answers have officially leaked online, and while that sounds like a really great thing, it might be a little early to scramble for the results. In what is being hailed by experts as one of "the worst security lapses in college-admissions testing history," the test answers leaked after a series of warnings (both within the company and from a consulting firm called Gartner Inc.) that the cybersecurity of the international College board was not up to par. Needless to say, there are folks that currently have the right to say "I told you so" to their academic colleagues.
Someone with access to these SAT keys — which were recentl revamped this past March — has decided to make an example of the not-for-profit College Board by releasing several different answer keys for upcoming tests.
According to Reuters, the College Board has been aware of how much their security lacked since at least 2013, after an assessment from Gartner. Employees within the companies raised concerns again in 2014, arguing that access to the SATs needed to be more tightly limited. Reuters says the answers provided to them from the anonymous hacker include "21 reading passages – each with about a dozen questions – and about 160 math problems."
It's not exactly clear yet what might happen if the test's answers actually leak to the public — if they haven't already. Reuters handed the leak over to the College Board to confirm that it was real, but has no evidence that the hacker who provided them with copies of the test's answers hasn't already distributed it elsewhere. The College Board is already on the move to take care of the breach, according to spokeswoman Sandra Riley, who says that they are "taking the test forms with stolen content off of the SAT administration schedule while we continue to monitor and analyze the situation." It's likely that these answers are already invalid, but the results of the investigation could mean that the test might be delayed or cancelled — which might not be something to rejoice about, since it counts toward college placement for the average student.