'Britannia' is Amazon's Gambit for Drama's Throne
A new Amazon original series promises to bring mythical Britain to life in a bid to rival 'Game of Thrones'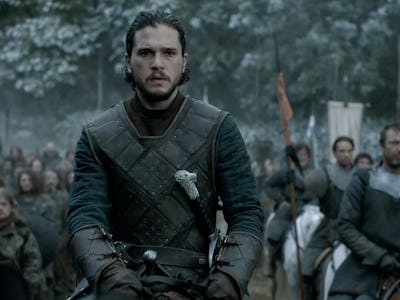 In its bid to compete with services like Netflix and Hulu, Amazon has partnered with Sky on a new original Game of Thrones-eqsue drama called Britannia. Set during the first year of the Roman conquest of Britain, the show centers on the conflict between the Roman Imperial Army and Britanna, which is described as "a mysterious land ruled by wild warrior women and powerful Druids who can channel the powerful forces of the underworld."
Here's the full plot synopsis:
Filmed completely abroad, Britannia is set in 43 AD as the Roman Imperial Army, determined and terrified in equal measure, returns to crush the Celtic heart of Britannia, a mysterious land ruled by wild warrior women and powerful Druids who can channel the powerful forces of the underworld.
There is no word yet on whether this means there will be shadow-demon births, but "wild warrior women" and "forces of the underworld" sure sounds like it.
Britannia is written by the fantastically named Jez Butterworth (Spectre) and will star David Morrissey (The Walking Dead), Zoe Wanamaker (Harry Potter and the Philosopher's Stone), and Kelly Reilly — otherwise known as the heroic woman who managed to keep a straight face as Vince Vaughn's wife in True Detective Season 2.
Between this and Guy Ritchie's gloriously batshit King Arthur movie, 2017 will be the year of ancient mythical Britain coming to life, give or take nights that are dark and full of terrors.
Sky's head of Drama — perhaps forgetting about Brexit — says, "this is a battle for the heart of Britain like you've never seen before."
The series will premiere on Amazon in 2017.