Critics Hate 'Suicide Squad', But DC's Rebirth Comic Soars
With a big movie comes a big reboot comic perfect for new readers.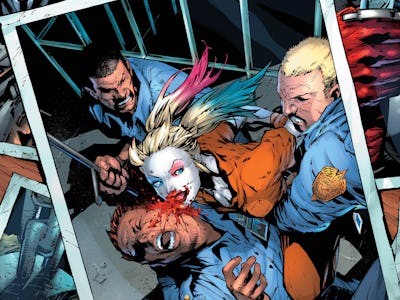 DC Comics
You might have already noticed, but there's a Suicide Squad movie coming soon, and the reviews, thus far, aren't great. DC's secret force of super-villains has been around a lot longer than anything named "Suicide Squad" presumptively would — their first appearance was in 1959 — but the Suicide Squad doesn't inspire nostalgic memories of a comic book silver age. Nor does its roster; Harley Quinn, who debuted in the Batman cartoon from 1992, has stolen most of the attention in the film (and its marketing campaign) while "Deadshot" and "Rick Flag" sound better suited for Mortal Kombat than Batman comics. Suicide Squad comes from the '50s, but everything about its aesthetic screams an early-2000s fever dream at Hot Topic.
DC Comics, the source of all this movie madness, is softly rebooting its continuity with Rebirth, and the Suicide Squad has been swept up in that reset. Because there's a movie, it's inevitable that curious non-readers might pick up the newest Suicide Squad issue with its prominent "#1" watermark. DC was obviously prepared for this new readership, because Suicide Squad: Rebirth #1 is as by-the-numbers an introductory comic can be, while also being a fun read about bad guys caught in a war zone.
Written by Rob Williams (best known for his recent run on Martian Manhunter), Suicide Squad: Rebirth #1 presents the Suicide Squad, also known as Task Force X, as a ragtag team of misfits in need of a leader. Harley Quinn, Boomerang, and Deadshot are known members, with several more acknowledged (but unnamed, though photos of Katana and Killer Croc are seen). President Obama — yes, Obama — learns of Task Force X Squad for the very first time and is expectedly pissed the U.S. has sanctioned outlaws with a license to kill. Amanda Waller, leader of A.R.G.U.S. and head boss of the team, negotiates to keep it going, with the condition that a squeaky clean figurehead can lead the team from outlaws into an actual force for good. Waller has just the man in mind: Colonel Rick Flag III, grandson to Rick Flag of the original Task Force X in World War II. Unfortunately, he may not actually be the boy scout they hope.
With a rather straightforward narrative structure, Suicide Squad: Rebirth #1 wastes little time letting the team's flashiest characters in an explosive battleground. Pitted against super-powered Mongolian criminals in an abandoned Chinese city — which is a real thing in real life — the criminals have obtained an experimental bomb that transforms normal people in its blast radius into meta-humans, the DC analog to Marvel's mutants or its newer counterpart, Inhumans (a meta-bomb sounds oddly close to a Terrigen bomb, while we're on the subject).
It's all an excuse to see some action, which is forgivable in a prequel comic. The second most important job for Suicide Squad: Rebirth, aside from introducing its characters, is ensuring that these aren't limp anti-heroes with misunderstood hearts of gold. These are bad guys, and they resort to gruesome tactics to get the job done. They'll save hostages by killing them — Deadshot never misses, you know — because it's more efficient than risking oneself to save them alive. That'll be a problem when Rick Flagg, who is in fact a misunderstood anti-hero with a heart of gold, whips them into shape in the near future.
One thing Williams's Suicide Squad: Rebirth flubs is highlight the dynamic between its players. The comic takes three of Task Force X's most colorful characters in Harley, Deadshot, and Boomerang, but their dialogue is interchangeable and their one-liners ineffective and, surprisingly, inoffensive. Boomerang makes an accidental racist comment toward their Mongolian adversaries, which Deadshot quickly corrects him like the PC Principal in South Park. It's not uncommon to see super-villains keep a moral compass, but it never stops being odd.
Ultimately, Suicide Squad: Rebirth isn't so much a rebirth but a fun, if also rote reintroduction of the oft-overlooked Suicide Squad comics. These books have their fans but they've never been prominent among iti contemporaries. Suicide Squad: Rebirth carries the burden of needing to reintroduce all of its concepts and characters for those about to wander into a matinee of David Ayer's new comic book movie. DC's new Suicide Squad comic may not be vastly important in the retooled DC Universe, but that doesn't mean it can't have any fun.