'Stranger Things' Gets a Fan-Made '80s Opening
The Netflix hit gets wholesome in a new video.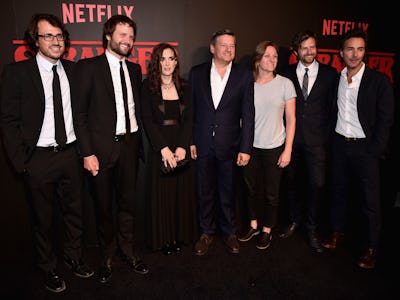 Getty Images / Alberto E. Rodriguez
By now, you've probably heard of Stranger Things. The new Netflix series starring Winona Ryder, Millie Bobby Brown, and an array of familiar-yet-new characters bring the eerie series to life, lending nods to the films and TV shows that inspired it. While several of the show's central characters might remind fans of a Spielberg-worthy line-up, the scarier elements of the show reference Hollywood's long lost love of Eerie Indiana — a subgenre that was also the title of a popular TV series — and the best of shows like X-Files or Twin Peaks.
While a recent video guru decided to pair famous shots and scenes next to shots from the show in comparison, the latest video to come out of the fandom is something a little lighter. It's been done before, sure, but it's fun every time — and this time, it really fits. Here's Stranger Things with an '80s sitcom twist:
The video was uploaded by user Tim Bennett, who only has one other video uploaded — a 2003 bowling interview. While the video fits the '80s format perfectly, it's worth noting that the song in question — Strange Things by Randy Newman — came out in 1995.
The show has astonished tough critics and is already inspiring mountains of fan art, with fans clamoring for clues about Season 2. For now, though, there's no official word on the second season, so fans will just have to keep guessing.