You Could Go to Jail for 10 Years in Britain if You Illegally Download
The Digital Economy Bill introduces a strict punishment.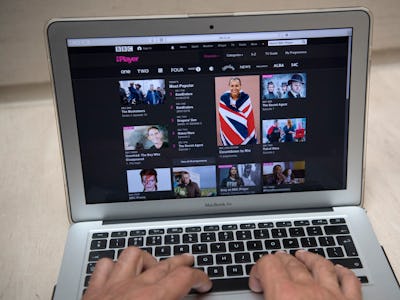 Getty Images / Carl Court
Do you want to go to prison for decade? If you're in the UK, it could be as easy illegally downloading a movie. You may also soon gain the right to demand faster internet speeds from your provider, while your preferred pornography sites may have to improve their age verification.
That seemingly random list of internet changes helps make up Britain's undecided Digital Economy Bill, a planned piece of legislation that seeks to introduce a raft of changes for Britons who use the Internet (39.3 million, or 78 percent of all adults). The bill is due for its second reading Tuesday, which is the first opportunity for members of Parliament to debate it.
The bill would introduce a maximum prison sentence of 10 years for those who share copyrighted files in select circumstances. That's the same sentence length as some death threats, or for possessing a firearm with intent to cause violence. The Open Rights Group, a digital campaigning organization in the UK, has dubbed the penalty "manifestly disproportionate."
It sounds like the government is trying to say that file sharing is equivalent to these crimes, but it may also suggest an effort to harmonize penalties. Richard Jones, a lecturer in criminology at the University of Edinburgh's School of Law, tells Inverse that physical copyright criminal offenses carry a maximum 10-year prison sentence, so this bill would bring sentences in line with existing laws.
"Whether increasing the maximum penalty for such offenses will have any deterrent effect is another matter," Jones says.
The bill may not even target the average file sharer. The college student torrenting Anchorman 2 on a Friday evening probably shouldn't do so, but the bill's wording suggests it would target mostly large-scale operations.
"It specifically focuses upon commercial uploaders who clearly intend to make money out of the infringement," David S. Wall, professor at the University of Leeds' Centre for Criminal Justice Studies, tells Inverse. "Because of this additional mens rea (financial gain by the uploader and a clear monetary loss to the copyright owner) it will not focus upon the downloaders, per se."
One area keen to see copyright infringers punished is sports broadcasters. Soccer broadcasting contracts are a big deal: Sky and BT Sport paid £1.5 billion ($2 billion) for the rights to three English Premier League seasons. It's groups like these, Jones explained, that will favor stricter sentences for websites stealing copyrighted material.
"The rationale behind the bill seems to be to protect the UK's creative industries," Jones said.
Will It Actually Become Law?
It's hard to say. The UK political system has been thrown into disarray since a referendum to leave the European Union passed. Theresa May, former home secretary, has replaced David Cameron as prime minister.
The bill was introduced to the House of Commons in its first reading by then-culture secretary John Whittingdale on July 5. Whittingdale introduced the bill under Cameron's leadership, but the culture secretary was replaced by Karen Bradley when May succeeded.
Bradley is basically unknown in media circles. "She's got no track record or involvement in the creative industries," John McVay, the chief executive of UK production sector trade body Pact, told Tech Insider when she was appointed.
Even if Bradley's on board, it's not certain the bill will pass. The Conservative Party holds 330 seats, a majority of just 17. If the other nine parties vote against the bill, and enough Conservatives rebel, it could be defeated.
Another option? May might call a snap election. Under the Fixed Terms Parliaments Act, a snap election happens when two-thirds of the house votes for one. "Were Theresa May to call a snap general election, I think all current pending bills before Parliament, including this one, would lapse," Jones said.
"In this Brexit world, your guess is as good as mine that it could get passed," Wall says.