Inside the Gigafactory Ahead of the Rager
"It's going to be the biggest party I've ever attended."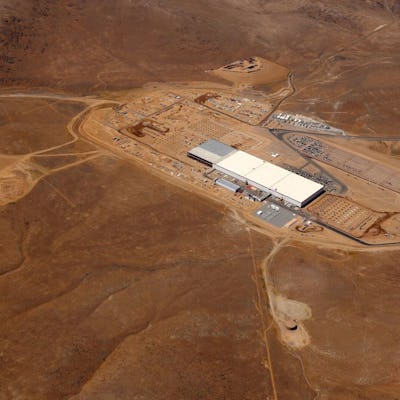 Tesla Motors
Elon Musk's $5 billion machine — the Tesla Motors Gigafactory 1 — opens Friday night. There's been a mad dash this week to meet the Grand Opening deadline. The Gigafactory is the "machine that builds the machine," Musk has said. What will become the largest-footprint building on Earth is just 14 percent complete — but it's complete enough to throw a party. This week's commotion is only a sign of things to come: Musk and Tesla are overburdened with almost half a million Model 3 reservations, and plenty of people are skeptical that they'll meet their self-imposed 2018 shipment deadline. Still, Tesla's made impressive progress. It's time to party.
Gigafactory 1 is located in Storey County, Nevada, in the Tahoe-Reno Industrial Center. Back in May, officials from Storey County and nearby Reno were "hard-pressed to come up with anything negative" about the project. Storey County Manager Pat Whitten tells Inverse today that he's ready for "the biggest party I've ever attended."
Whitten is himself on the Model 3 reservation list himself. He is proud of his county, his team, and Tesla. He's visited the Gigafactory several times over the past few months — inside and out — and it's different every time he goes. "It's such a dynamic project." Whitten, when describing the Gigafactory, sounds like someone who's seen rain fall up. The general takeaway is, of course, that it's massive, and that it wows all comers. The inside of the factory is organized, clean, and — if you will — well-oiled, and Whitten says that there's "a tremendous amount of equipment and machinery that is already in place, with more appearing and being installed with each and every visit."
Tonight's grand opening is somewhat figurative: Whitten doesn't think they'll be starting battery production come Monday morning. "I anticipate that in short order they'll be actually producing. But, there probably will need to be some beta testing and stuff like that done first before they start spitting out battery cells." However, as far as Whitten knows, Tesla is "on target or ahead of target with everything that is scheduled." Time will tell whether that remains the case, but Musk certainly seems committed enough to the promise.
Storey County has played no small role in ensuring that Tesla's wild ambitions come to fruition, and Whitten credits his team — "the most awesome team I've ever worked with" — for this success. But just as that's the case, Tesla's also been very good to Storey County. The publicity, recognition, and reputation are all boons to an otherwise quiet town. And ever since the Gigafactory began making headlines, Whitten's been fielding calls from other interested big-time companies.
Tesla is hosting the event for all those who made the Gigafactory possible. This includes Tesla employees, top-tier Tesla owners, local and state officials, and others who were involved. Counting guests, there will be upwards of 20 Storey County officials and workers in attendance.
Whitten will be there, too, though he's a little bummed to be missing Storey County's other big event this evening: Hot August Nights. It's a huge, annual, classic car event in Reno and Sparks: this year, there will be close to 6,000 registered cars, Whitten says. The kickoff event is in Storey County's Virginia City, where there will be about 300 classic cars. But he's not too bummed: the Gigafactory grand opening is a "once-in-a-lifetime opportunity," Whitten says. He'll be celebrating what could become the future's classic car.
And Whitten is looking forward to it. "I guess what I'm expecting is to be overwhelmed by what sounds like it's going to be the biggest party I've ever attended." Mostly, Whitten explains, he's "expecting to be awed — because I don't think Tesla can do anything without that. Especially not Mr. Musk himself."