Hell Comes to Earth in 'From Dusk Till Dawn' Season 3 Trailer 
If the Gecko brothers want to live, they're going to need a lot of help.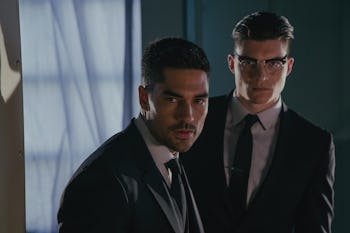 El Rey Network
When Robert Rodriguez decided to expand his cult From Dusk Till Dawn movie into a full-fledged series, there was little reason to think the show would last more than a season. Once the characters in the film learn the world is being invaded by demonic vampires, they survive the night and move on. Done!
But here we are, with Season 3 around the corner – no signs of stopping – and it's all for the better because the From Dusk Till Dawn series is kinda awesome. This year, the Gecko brothers find themselves in the underworld, thrust into fighting against the forces of Hel (not a spelling error, it's the Norse underworld) as they assemble a crew to take on new enemies.
While the show began expectedly as a western-inspired thriller with a very clear horror edge, the show is now getting deep into supernatural territory. These characters are inches away from becoming cosplay favorites, like Brandon Soo Hoo's Scott, who looks dope in his new get-up. The series should seriously consider going as over-the-top as possible with its characters from now on; I could see From Dusk Till Dawn as a de facto Devil May Cry type of show.
Season 3 will see the return of D.J. Cotrona, Zane Holtz, Eiza González, Jesse Garcia, Madison Davenport, Brandon Soo Hoo, Emily Rios and Jake Busey, while Ana de la Reguera, Marko Zaror (Machete Kills), Maurice Compte (Narcos), and Nicky Whelan (House of Lies) come aboard as recurring guest stars. Tom Savini, who you know as "Sex Machine" in Rodriguez's 1996 From Dusk Till Dawn movie, will return to the series playing a new character, a retired demon hunter called back into action.
From Dusk Till Dawn premieres on El Rey on September 6.