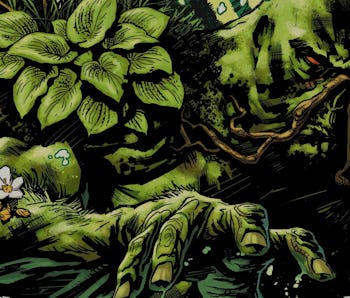 Entertainment
Watch The Lost 'Swamp Thing' Test From 'Justice League Dark'
You'll stay awake at night hearing this DC horror character's breathing.
DC Comics
Far away from Gotham and Metropolis, in the Louisiana bayous, resides the heroic-nightmare Swamp Thing. Created in 1971, the mutant vegetable occupies a cross-section between horror and superhero genres. In the DC Universe, it's a terrifying force of nature, literally, that fights to protect the environment.
In the last few years, efforts to bring Swamp Thing to life on film proved fruitless. Guillermo del Toro tried it in Dark Universe (based on the 2011 comic series Justice League Dark), but the project fell through the cracks at Warner Brothers and never materialized. Following the formal reveal of DC's animated Justice League Dark, filmmaker Joseph Kahn (known for Torque, Detention, and a bunch of Taylor Swift music videos) uploaded an eight-second screen test of Swamp Thing that was part of his pitch for Dark Universe. Sure, it's just Swamp Thing walking through a blank landscape, but even that is enough to inspire some pants-soiling terror.
Watch the embedded clip below with headphones and crank up the volume. Not only do you hear Swamp Thing's disgusting heavy breathing, you also hear his footsteps upon moist ground and bugs and crickets which add to the moody atmosphere Swamp Thing would inhabit. Swamp Thing himself looks like a nightmare come to life, dripping with lake water like you've ruined his peace. His glowing red eyes pierce deep: I ain't fucking Captain Planet.
Justice League Dark, based on the 2011 comic book series of the same name, is Warner Bros. next big animated feature, following the controversial Batman: the Killing Joke film. In it, the supernatural and horror-inspired heroes from DC — including Zatanna, John Constantine, Deadman, and Swamp Thing — come together to protect the world from a threat even Superman and Batman are vulnerable to.
While there are no immediate plans for a live-action Swamp Thing, Kahn's brief demonstration will keep us awake at night for a few months at least. And since Kahn already made a bootleg Power Rangers movie, there's no telling what he'll put on screen next.