The 10 Speculative Fiction Beach Reads of 2016
You want to be lying down when you read some of these.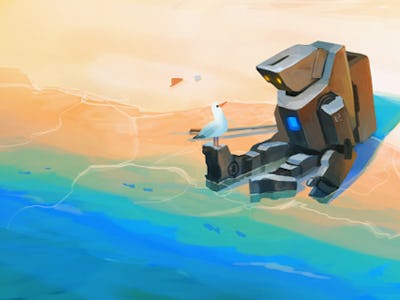 Deviantart
Summer's almost over but there's still a few good weekends left to sit by the pool or on the beach with a good novel. "Beach read" is a special breed of compelling, easily consumable novel that lends itself to a summer afternoon in a lounge chair, and sci-fi and fantasy can often deliver all those elements.
For the avid readers, there's so many great series that can entertain you for days, but for our specific, beachy purposes, here's some of the best, most fun stand alone works of 2016 so far.
All the Birds in the Sky by Charlie Jane Anders
Sci-fi and fantasy face-off in this funny, magical novel about two estranged best friends, Patricia and Laurence, reunite. One is a gifted magician, the other an engineer who invented a time machine, and they live in a futuristic San Francisco that is still a quirky, hipster city. It's a weird, funny, romantic, and riveting read that's perfect for a sunny afternoon.
The Paper Menagerie and Other Stories by Ken Liu
Sometimes short stories make for better beach reads; quick, complete morsels that you can read in short periods of downtime, and savor afterward. You can do no better than the latest collection from sci-fi master Ken Liu.
The Summer Dragon by Todd Lockwood
Having dragon withdrawal? Try this debut novel from a well-known fantasy illustrator. It has a has a wonderful, fierce female protagonist Maia, and yeah, dragons that you can ride, and that can be your best friend. It's fast, magical, and action packed.
Infomocracy by Malka Older
If you just can't take your mind off all the election drama, try this cyberpunk, political thriller about election drama, corruption, and media and corporate control. The set up is a future society made up of "microdemocracies", divided equally by population size.
Persona by Genevive Valentin
Like Infomocracy, if your obsession is reality tv or celebrity news. The basis of this novel, and it's follow up Icon, is that political power is determined by popularity, and state leaders are known as "Faces". Part diplomatic thriller, part celebrity scandal, and has a sharp, smart protagonist in Suyana. It's a fast-paced story that's easy to blow through in an afternoon.
Admiral Sean Danker
For a thrilling, fast read, try this space mystery about a small military crew stranded on a foreign planet. The set-up sounds a bit like Alien, but it's not. Admiral has enough suspense, action, and excitement to entertain you, not too much to bog you down.
Dark Run by Mike Brooks
For colorful characters and space action, try this space-pirate adventure from Mike Brooks. It follows a crew of smugglers and soldiers for hire and their captain with a dark past as they journey through the galaxy toward Old Earth. It's a page turner that won't haunt you when it's over.
Too Like the Lightning Ada Palmer
If you like dreamy fantasy worlds and philosophy, and want a meatier read, try this rich and energetic utopia novel. The society in Too Like the Lightning is based on Enlightenment thought, and like most utopias, it's fragile and flawed. It's more cerebral than a classic beach read, but the pace and intrigue sneaks up on you.
Super Extra Grande by Yoss
Branch out a little with the latest novel from Yoss, Cuba's science fiction rockstar who has been compared to Douglas Adams. It's a funny, lively, satirical space opera about Latin American space travelers and a veterinarian who specializes in alien species. It's pure fun.
The Fifth Season by N. K. Jemisin
This came out last year, but bears mentioning as a contender for this year's Hugo Awards. This novel takes place in an alt-future Earth call the Stillness—it's ironic because the world is riddled with earthquakes and volcanoes—and weaves three narrative points of view as they travel this treacherous landscape. It's best suited for a long weekend, since it's a little long and intense for a beach read, but well worth it, and perhaps best read with your ass set firmly, reassuringly, in the sand.